RQ#95 - Online
The links underlined below are active now - more will be added in coming weeks, so check back often!
Quarterly Contest - enter to win a Reclaiming CD in this quarter's "Winter Solstice" contest
Pagan Cluster actions, Grassroots Roundup, and much more
Water: An RQ Theme Section Feature Articles and Poetry
RQ Regular Departments
More links will be active through the Fall
Reclaiming Our History
Health and Healing
Reviews: Sabina Magliocco, Brook, Spiral Rhythms, David Solnit and more
Magical Practice
Urban Witchcraft
Readers add their voices
RQ Readers add comments, articles, poetry, and more
Click here for info on submitting articles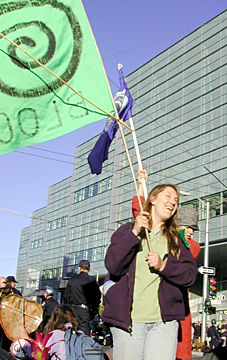 RQ Review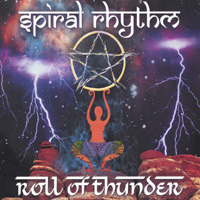 Roll of Thunder
Spiral Rhythms
This chant album, from a Georgia-based Pagan band, opens with an a capella rendition of P. J. Seale's "I Am The Goddess," artfully weaving female and male voices. This song is destined to be learned by Witches everywhere.
"Maiden Mother Crone" features a dijeridoo. "Children's Totem Chant," with human voices mimicking the sounds of animals, will be welcomed by anyone raising kids in the Goddess tradition.
"My Country Tis Of Thee," sung in Pagan choir-harmony style, back to back with Christian Williamson's "Freedom," bring a fresh take on an old standard and on Pagans' place in our nation.
On "Om Jam," a trance-like piece of humming and toning, a rainstick, dijeridoo, and drums encircle the singers. This cut is reminiscent of Gabrielle Roth.
The chants on this album have a professionally-produced sound. Good harmonies and excellent timing make it a standout among Pagan chant albums. You'll be transported to bonfires past, while learning new songs for bonfires future.
Reviewed by Irish Flambeau. From Musiphysical Productions, www.spiralrhythm.net
---
ReclaimingQuarterly.org is a developing experiment -- give us your feedback! Write us at quarterly@reclaiming.org
Subscribe to our print edition! | Return to RQ's Home Page | Return to Issue #95 Home Page
Return to the top of this page