Music from Reclaiming - Now Available Online
---
Witches' Brew: Songs and Chants from the Reclaiming Cauldron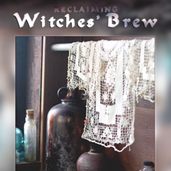 This beautiful compilation features recent songs by a dozen Reclaiming teachers and musicians. A virtual "greatest hits" collection, this CD is a musical journey through Reclaiming's many facets.
The selections range from traditional Reclaiming chants, to meditational instrumentals, to classic three-minute pop songs. Some of these artists you'll know from past recordings. Others you'll be hearing for the first time.
Among the artists are Beverly Frederick, Brook, Crow, Danielle Rosa, David Miller & the Honky Tonk Communists, Evelie Delfino Sales Posch, Evergreen Erb, Green & Root, Jeffrey Alphonsus Mooney, Moonrise, Skyclad, Suzanne Sterling, and T. Thorn Coyle.

Listen to Samples from this CD:
Caravan by Suzanne Sterling
Who Is the Goddess by Moonrise
And When I Rise by Evelie Delfino Sales Posch
Labyrinth Meditation Music by Crow
---
Let It Begin Now: Music from the Spiral Dance
In 1979, Reclaiming held the first public Spiral Dance ritual, to celebrate Samhain (Halloween), and the publication of Starhawk's book The Spiral Dance. Since then, the Spiral Dance ritual has steadily evolved, most profoundly by the inclusion of beautiful original music. These 11 songs and chants from Reclaiming's Spiral Dance ritual are played in a variety of musical styles, from a capella to full choral arrangements with complex instrumentals. A ritual in itself, this 1992 recording captures as much of the magic of our yearly ritual extravaganza as would fit in the studio!
Song titles: Spirits; Lyke-Wake Dirge; The Guardian Song; No End to the Circle (Goddess Invocation); Honor to the Untamed God; The God Song; Set Sail; The Gates; Let It Begin Now; No End to the Circle (Devocation); Demeter's Song.
Listen to Samples from this CD:
---
Chants: Ritual Music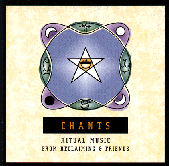 This popular 1987 recording features chants taught through Reclaiming's classes and rituals, many of which are now familiar to Pagans around the globe. Includes 21 great chants in all, performed by a small chorus with some hand drumming. All lyrics included.
Song titles: The Beginning of the Earth; Touching Her Deep; Air I Am; Rise With the Fire; Snake Woman; Goddess Medley; We Are the Flow; Silver Shining Wheel; Where There's Fear There's Power; Hecate, Cerridwen; Return to the Mother; Born of Water; Air Moves Us; Water and Stone; We All Come from the Goddess/Hoof and Horn; Kore Chant; Sun King; We Are Alive.
Listen to Samples from this CD:
---
Second Chants: More Ritual Music

This versatile recording, produced in 1994, has many wonderful new chants and songs from Reclaiming's classes, summer intensives, and rituals. Arranged with teaching in mind, yet musically varied with a host of instruments. Strong production values make this album a consistent best seller. All lyrics included.

Song titles: The Fool; Circle Casting Song; The Awakening; Rhiannon; I Am But One; His Mystery; Sparks; Free the Heart/Powerful Song; Harvest Chant; Barge of Heaven; Inanna; Return of the Goddess; Wings; Who Is She; When We Are Gone.
Listen to Samples from this CD:
---
Reclaiming music is also available as digital downloads from iTunes and CD Baby - $9.99 per album

Your order of Reclaiming music benefits all the work of Reclaiming, from rituals to activism to our magazine and website. thank you for your support!

CDs are $16 apiece, postpaid to anywhere on Earth - or all four for just $49.
For bookstores, dealers, bulk and other special orders - please email RQ
Mail orders: Send check or money order to RQ, PO Box 14404, San Francisco, CA 94114, (415) 255-7623. Be sure to include your address and phone.


---