More RQ Features
Garden Lockdown at Reclaim the Commons | Pagan Cluster 2004 Spell | Earth People in Sacramento
Witchcamp Chants Book | How to Draw a Labyrinth
If you appreciate these features and the rest of the RQ website, please donate or subscribe now!
---
Streets of New York
Anthony Barreiro - Saturday, August 28
Hi friends, Deborah and I have been in New York since Friday morning for the demonstrations in response to the Republican National Convention. Today was a full and beautiful day, and I want to share it with you.
My day started with yoga and prayer in a gritty park in SoHo, shared with old Chinese people doing Tai Chi. Then I went to a nonviolent direct action training at the convergence center at St. Mark's Episcopal Church. Even though I'm not planning to do civil disobedience, I wanted to get a refresher training and align my energy with the activists who will be in the streets Tuesday evening. The training was uplifting and energizing.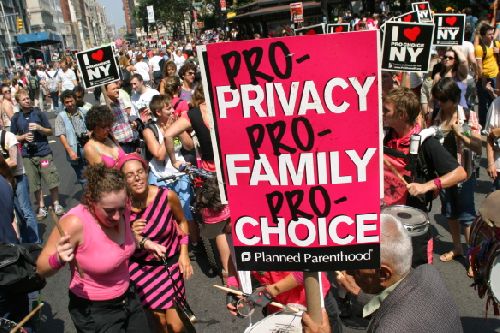 At lunch in an organic vegan restaurant in Soho, I was sitting next to two young women who had just finished doing the march for women's rights from Brooklyn, across the Brooklyn Bridge, to a rally at New York City Hall. There were an estimated 20,000 marchers, and it took hours for them to cross the bridge. As we were chatting, I learned that these two young women will be starting their second year in the Master of Social Work program at Columbia. Great to connect with young, politically active social workers. The whole day has been like that. New York feels like a friendly small town, people are very welcoming of out-of-town activists, and there's a lot of really creative, positive organizing going on.
Deborah and I took the subway down to the World Trade Center site to participate in a bell-ringing ritual for peace and healing that started at 5:30 pm. 108 minutes of continuous bell ringing, 10 minutes of silence, then five 10-minute cycles of ringing moving around the site from east to south to west to north. Thousands of people surrounding the hole where the World Trade Center used to be, all ringing bells, or listening silently. Very simple, very powerful, very moving. The composer Pauline Ontiveros composed the piece. I was amazed that so many people with no advance training or practice could stay together, but we did. Right at the end of the piece it started raining, which felt like a perfect grounding of the energy.
Then the subway back to St. Mark's, a beautiful old stone church, where the Pagan Cluster held a full moon ritual in the courtyard (the rain had stopped). It was great to see Reclaiming and radical faerie friends, and to be back in a familiar circle. Using balls of yarn we wove a web of connection, protection, and empowerment for the upcoming actions. Lots of yarn, a really big web with lots of nodes and strands. It was fun, playful, creative, serious. As we wove, we sang together and called out what we are weaving into the web. Then when the web was woven, we charged it with all of our intentions, and each of us cut off a small piece to carry with us throughout the week. There was still a lot of web left, which will be used in the streets Tuesday evening during the nonviolent direct action against the RNC.
After the ritual I hooked up with my healer friends from the bay area, Dress and Kala, and introduced them to the healing space at St. Mark's where we will all be doing healing work in support of the convergence. Then home to the hotel, just a few blocks south of St. Mark's. Over a late supper Deborah and I watched the days events on the news.
The huge march organized by United for Peace and Justice will be tomorrow. Up to 250,000 people are expected. The energy feels really good.
Monday through Thursday I'll be doing healing work (crisis, trauma, and integration counseling) in the healing center, and checking out many of the wonderful cultural and arts events that have been prepared in response to the RNC.
peace to you all,
Anthony
Anthony Barreiro is a Reclaiming Witch, a radical faerie, a queer christian, and a clinical social worker who lives in San Francisco. His email to family and friends is reposted here by permission. ©2004 Anthony Barreiro.
---
If you appreciate this feature and the rest of the RQ website, please donate or subscribe now!
To contact the Pagan Cluster or Green Bloc, email Reclaiming Quarterly, quarterly@reclaiming.org

Return to the RQ Home Page