Latest cluster updates at www.pagancluster.org | Return to the main RNC page
Friday, September 3 - New York City
All Pagan Cluster Activists Out of Jail
As of Friday morning, all 21 (probably 24, says Holley -- ed.) Pagan Cluster activists had been released. People had been in jail since Tuesday.
Nineteen people were arrested on Tuesday as part of a Pagan Cluster action. Two others, Kala and Dress, were arrested separately. All are out of jail now.
As far as we at RQ know, this accounts for all of the Pagan Cluster folks who were arrested in NYC. If you have any other information we should post here, please email me - thanks!
Thursday afternoon, before everyone got out of jail, Pagan Cluster members gathered outside the jail, singing:
We will never, never lose our way
To the well of her liberty
And the power of her living flame,
It will rise, it will rise again.
---
Many protesters are still incarcerated and need our support!
Click here to help the New York arrestees! - a simple phone call can make a big difference
Thanks to Zoe, Hawkeye, Holley, and Bolowolf for the updates.
---
Wednesday, September 1 - New York City
19 Pagan Cluster Activists among Arrestees
The following information is confirmed as of 11:15am Wednesday
19 members of the Pagan Cluster were arrested last night.
One member was released last night.
The women of the Cluster are citing out and not doing jail solidarity. Their IDs are in transit to them to facilitate that process.
The men of the Cluster are aware that the women are citing out. It is not yet know what action the men are choosing at this time.
from Zoe, PaganCluster.org PhoneBlog coordinator
---
Tuesday, August 31 - New York City
More on the Tuesday actions by Anthony Barreiro
Hundreds of people have been arrested today in New York City, peacefully assembling to demonstrate against the Republican convention and all it stands for. The police didn't wait for people to actually do anything illegal, they just arrested everybody who looked like a demonstrator as early as possible. The arrests are continuing as I write.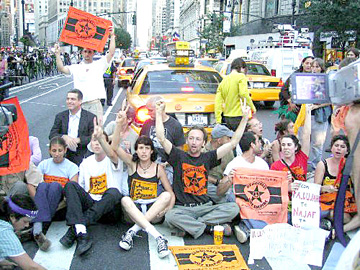 photo by eriseupe -- click here for more photos
My friend Deborah is among those in jail tonight, arrested on a sidewalk near the World Trade Center. I will send more info about Deborah's arrest in a separate message. I believe she is okay, she has legal representation through the National Lawyers Guild, and I hope she will be cited and released tomorrow afternoon or evening. Here are phone numbers for New York City officials -- please make a few phone calls, let them know that you know what's going on in New York, and encourage them to drop all charges against the demonstrators, and to release all the arrested demonstrators immediately.
Thanks, peace -- Anthony
More on the Tuesday actions by Anthony Barreiro
Latest cluster updates at www.pagancluster.org | Return to the main RNC page
---
If you appreciate this feature and the rest of the RQ website, please donate or subscribe now!
To contact the Pagan Cluster or Green Bloc, email quarterly@reclaiming.org
Return to the main RNC page
Return to the RQ Home Page