More RQ Features
Garden Lockdown at Reclaim the Commons | Pagan Cluster 2004 Spell | Earth People in Sacramento
Witchcamp Chants Book | How to Draw a Labyrinth
If you appreciate these features and the rest of the RQ website, please donate or subscribe now!
---
Return to the main RNC page
Tuesday, August 31 - New York City
Bay Area Direct Action to Stop War -- Nonviolent Direct Action to Confront Bush
Thousands Create "Democracy Zones" Calling For Real Democracy, Not Empire
Hundreds of Bay Area residents involved with Direct Action to Stop the War joined thousands of others from New York and across the country in a day of non-violent civil disobedience and direct action to confront the Bush administration's unjust policies at home and abroad. Many of these community members also participated in the mass shut down of the San Francisco financial district on March 20, 2003 to demonstrate opposition to the invasion of Iraq.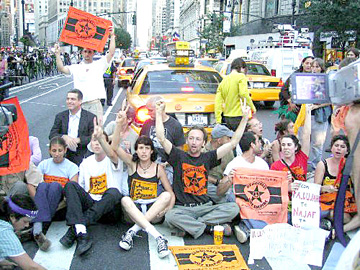 photo by eriseupe
While California's "Governator" gave his support to the Republicans inside the convention, Bay Area residents will create "Democracy Zones" outside on the streets surrounding Madison Square Garden. These creative demonstrations are intended to stop business as usual in order to express outrage at the Republicans violent attacks on the people of the U.S., Iraq, Palestine and the world.
The mobilization hopes to send a message impossible to ignore to the Bush administration, the people of the United States and the entire international community. Namely that there are people in America who are willing to risk their own freedom, safety and comfort in order to stop the atrocities being committed by the Bush administration both at home and abroad. Their hope is that their opposition will be seen, heard, welcomed and repeated around the nation and the world.
"This administration has devastated child care services, public education and health care," said Bay area childcare provider, Melissa Marin. "I am taking action today in defense of our children's future."
"I'm here because after marching with half a million people to protest Bush and his war against Iraq on Sunday and with tens of thousands to protest the war against poor people in America on Monday, we now follow in the tradition of the Boston Tea Party, the women's suffragette movement, the civil rights movement and Stonewall, to exercise our hard-won democratic right to confront injustice with nonviolent civil disobedience," said long-time Bay area resident and Direct Action to Stop the War activist, Sarah Kennedy. "We believe that silence is agreement."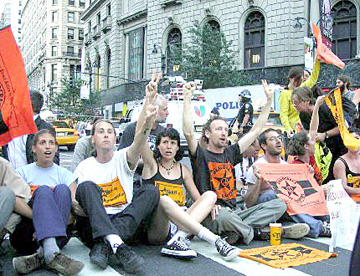 photo by eriseupe
DASW will use its actions today to send a visible message that democracy means going beyond voting. It means actively, directly and daily participating with friends, neighbors and communities to oppose injustice and create the world within which one wants to live. This vision of democracy was offered as an antidote to Bush's ambitions of an American empire.
Direct Action to Stop the War is a community-based mobilization organized through decentralized affinity groups and a directly democratic spokes council. DASW organized the 20,000 person shut down of the San Francisco financial district to protest the invasion of Iraq and has launched a "Beyond Voting: Democracy versus Empire" campaign to challenge the Bush administration's policies of empire-building, permanent war and domestic cut backs with grassroots mobilization for a real democracy.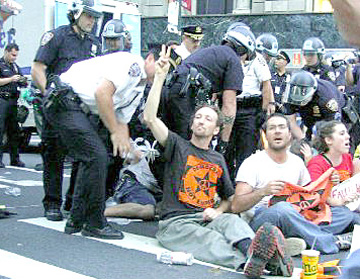 photo by eriseupe
---
If you appreciate this feature and the rest of the RQ website, please donate or subscribe now!
Contact Direct Action to Stop War - San Francisco
To contact the Pagan Cluster or Green Bloc, email quarterly@reclaiming.org
Photos ©2004 eriseupe - please do not copy, reproduce, fold, spindle, or mutilate these photos without written permission. Thanks!
Return to the main RNC page
Return to the RQ Home Page