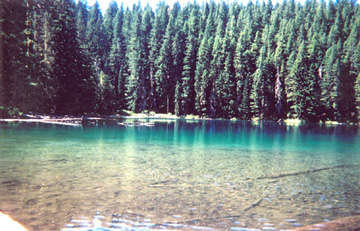 Witchcamp
Reclaiming-tradition intensives in North America and Europe
Reclaiming Witchcamps are intensive retreats for the study of magic and ritual, usually held in a campground setting.
Witchcamps are offered to women and men at all levels of experience.
Newcomers can learn the basic skills of magic and ritual, working with the elements, movement, sound and the mythological and historical framework of the Goddess tradition.
Advanced paths offer the chance to apply the tools of ritual to personal healing and empowerment, or a focus of taking the craft out into the world, creating public ritual, ongoing groups and healing issues surrounding leadership and power.
Witchcamps at RQ.org
We want these pages to convey some of the magic of Witchcamp. If you've never been to camp, here's a chance to see the beautiful settings and some of the activities.
If you have been to camp, here's a chance to reminisce - and to help us cover your camp.
Our goal for 2005-2006 is to set up photo-pages for all of the nearly two dozen Reclaiming Witchcamps and Family Camps. Over the years, RQ magazine has featured articles and pictures from many of the camps.
We want our website to bring you color photos, reflections, articles, poetry, artwork, and other highlights of all of the camps.
These pages will be a place for campers to revisit memories form their own camps and to cyber-visit other camps. Maybe these pages will inspire you to travel to one of these camps in the next year.
From the forests of BC and California to the ancient fields and stone buildings of Avalon, from the riverside home of Tejas Web's camp to the snow-labyrinth of Minnesota's winter Witchcamp, RQ wants photos and stories from your camp.
Here are the first few camps - chosen because they sent us photos! To add to these pages, or to help us create pages for your camp, email RQ.
Coming Soon
Photos and stories from your local Witchcamp - with your help! Email RQ today to help us gather photos and text for your camp.

Photo of Free Witchcamp, Oregon ©2005 by Pam BasiliusPlease do not copy, reproduce, fold, spindle, mutilate, or otherwise use them without written permission. Thanks!