Like this feature? Please subscribe or donate today! - RQ needs your support to survive!
Return to Labyrinth Home Page
---
Drawing a Labyrinth by Yourself
The 7-circuit labyrinth is drawn as shown. To draw an 11-circuit labyrinth, add an "L" in each corner and follow the same plan as for 7-circuit -- see diagram, lower right.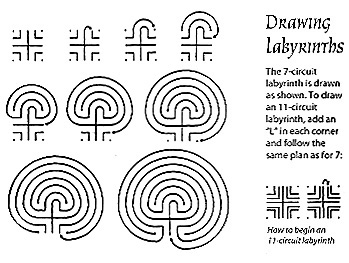 ---
Return to Labyrinth Home Page
Return to RQ Home Page