UPDATES
Solstice Day Bonfire Ritual - cancelled!
Reclaiming folks are negotiating with the GGNRA regarding our bonfire rituals, and asked that there not be a "direct action" ritual at this time. Not everyone agreed, but the weight of opinion was in favor of waiting.
Bonfire updates - watch the BARD yahoogroup - email RQ to join BARD
SF Chronicle reports on Winter Solstice 2012 - click here
there is an ongoing community discussion regarding media at rituals, particularly on public land
---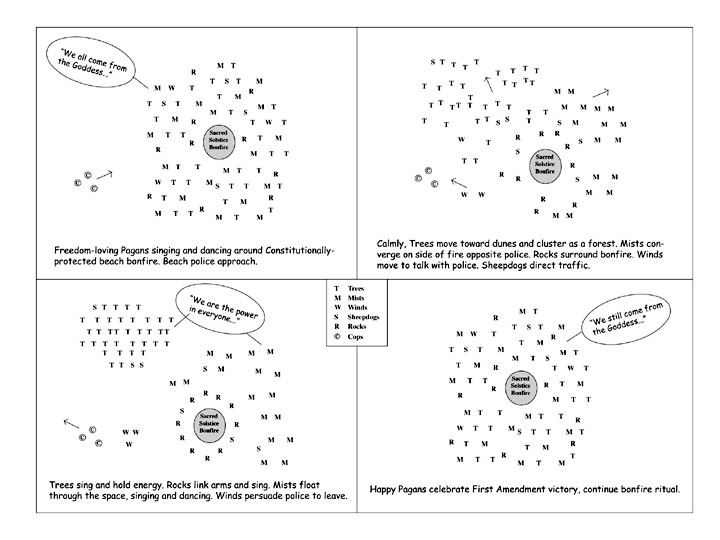 Defending the Solstice Bonfire
Winter Solstice Plans - Fri Dec 20 - Ocean Beach
Police Quash Summer 2013 Bonfire
2006 Community Forum Report
Letter to Park Service
Letters of Support
Click here for a diagram of our 2007-2012 bonfire plans
---
Saturday December 21, 2013
Winter Solstice Bonfire Ritual - Solstice Day
This ritual has been cancelled - please spread the word
Reclaiming folks are negotiating with the GGNRA regarding our bonfire rituals, and asked that there not be a "direct action" ritual at this time. Not everyone agreed, but the weight of opinion was in favor of waiting.
A small group of people will be at Ocean Beach on Saturday in case anyone shows up. We may even light a candle!
For more information, contact solsticebonfire@gmail.com. We will not see email after noon on Saturday (we'll be at the beach!)
---
Park Service Threatens Solstice Bonfire in San Francisco
Reclaiming Organizes to Defend Ritual Bonfires
by George Franklin - Photo by Otter, prior to a Solstice ritual
Bay Area Reclaiming folks are organizing in support of our traditional Solstice beach bonfires on Ocean Beach near Taraval Street in San Francisco.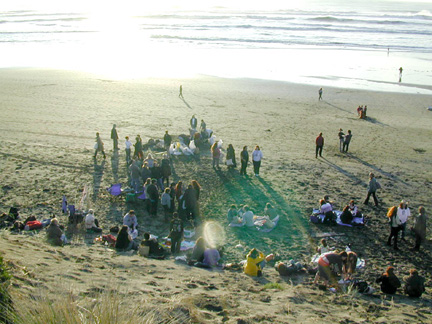 GGNRA Beach Rangers returned after a several-year hiatus to our Summer Solstice 2013 San Francisco Ocean Beach ritual - a thirty-year tradition - and declared the beach off-limits to fires.
After a spontaneous beach meeting where various views were voiced, ritual-goers decided not to attempt to light a fire. The ritual was still held, without a fire.
A community forum is planned for Thursday, December 5, 2013 to discuss options. Circles and affinity groups are also encouraged to discuss their responses.
One possible plan will be to do more than one ritual - one at the permitted fire stations near Golden Gate Park, and another (probably at a different time) at the traditional site with a constitutionally-protected beach bonfire.
Come back after December 5 for an update, or contact sfrpc@yahoogroups.com.

---
Background - 2006
Summer 2006 - Bonfire Quashed by GGNRA Rangers
June 24, 2006 - Here's a brief report on events following the San Francisco Solstice ritual on June 21, 2006.
The Summer 2006 bonfire was extinguished by Park Service police following the Solstice ritual. Police have "visited" several bonfires since that time. Although they have not disrupted the core of the ritual, their visits seem aimed at discouraging use of the historically public beach - one of the last "common" spaces in our City where traditional Solstice bonfires can be lit.
Around 2008-09, we tried a couple of other locations for our ritual, including the "legal" firepits across from Golden Gate Park. None of these alternate spaces worked for most people at the ritual, due to partying and voyeurism.
Reclaiming has responded by organizing a bonfire defense plan as part of or ritual until the Golden Gate National Recreation (GGNRA) agrees to honor the rituals as part of the tradition of Ocean Beach.
The GGNRA police who patrol the beach know of Reclaiming's tradition of bonfires on the south stretch of Ocean Beach near Taraval Street. Reclaiming-San Francisco considers this section of beach a sacred site for our Solstice rituals, and at a series of hearings informed the Park Service that we do not intend to move (see Reclaiming's letter to the Park Service).
Authorities have been attempting for several years to restrict use of Ocean Beach due to budget shortfalls that affect beach maintenance staffing. Reclaiming and other groups and individuals who use the beach have attended hearings, written letters, and organized to prevent this drastic change in beach policy, which threatens to eliminate one of the last "commons" spaces in San Francisco.
This RQ feature gives background information as well as sharing plans for upcoming rituals, in the event the authorities attempt to enforce their policy:
To contact San Francisco Reclaiming ritual planners, email SFRPC@yahoogroups.com.
Contents of this page ©2012 by RQ. Please do not copy, reproduce, fold, spindle, mutilate, or otherwise use them without written permission. Thanks!
---