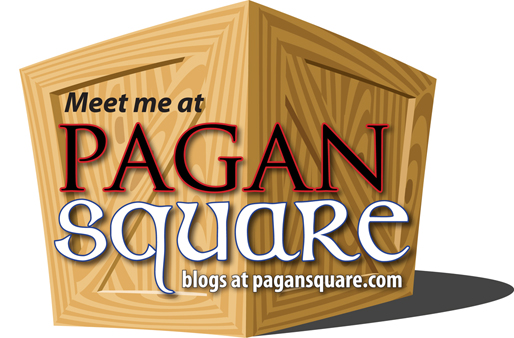 Ad - click for more info
---
Our new all-devices website!
Visit RQ at our new wix-based, all-devices website. Same great RQ content, now viewable on phones, tablets, etc.
This site (ReclaimingQuarterly.org) is still fully functional, but is no longer being updated.
Visit us at WeaveAndSpin.org!
---

playlists, streaming and downloads
Links to free listening
at youtube, google, spotify, and more!
---
Favorite RQ Features
Older Features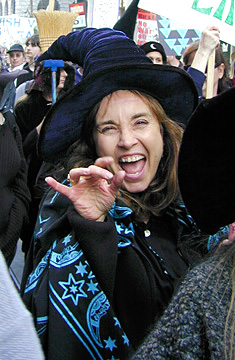 ---
Thousands March for Black Lives Matter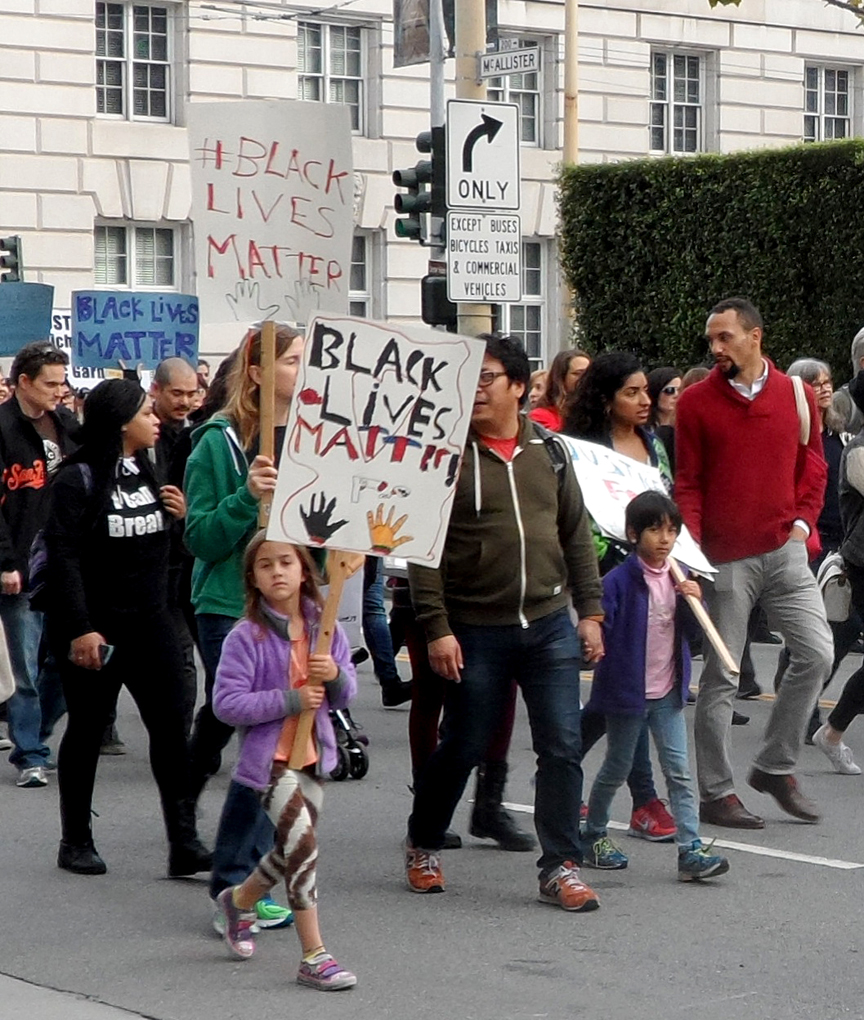 Photos from San Francisco by Luke Hauser
Thousands of people march in San Francisco, joining thousands more in Oakland and around the globe.
Culminating a week of marches and protests, thousands of people marched in dozens of cities to protest police violence, particularly against young black men.
Marches known variously as Millions March, Justice For All, and Black Lives Matter took place in Washington DC, New York, Boston, the SF Bay Area, and many other cities.
Many Reclaiming and kindred folks were involved in the SF march, making this the largest pagan cluster gathering in the Bay Area since Occupy in 2011. Some Reclaiming people have been also been involved in Oakland and Berkeley protests over the past week.
A good source of independent reporting is indybay.org and indymedia.org
For Reclaiming and pagan cluster organizing, join our yahoogroups - contact SFRPC@yahoogroups.com for more info.
---
Photos from San Francisco - December 2014
Photos from San Francisco by Luke Hauser
Right-click on a photo to open full-sized image.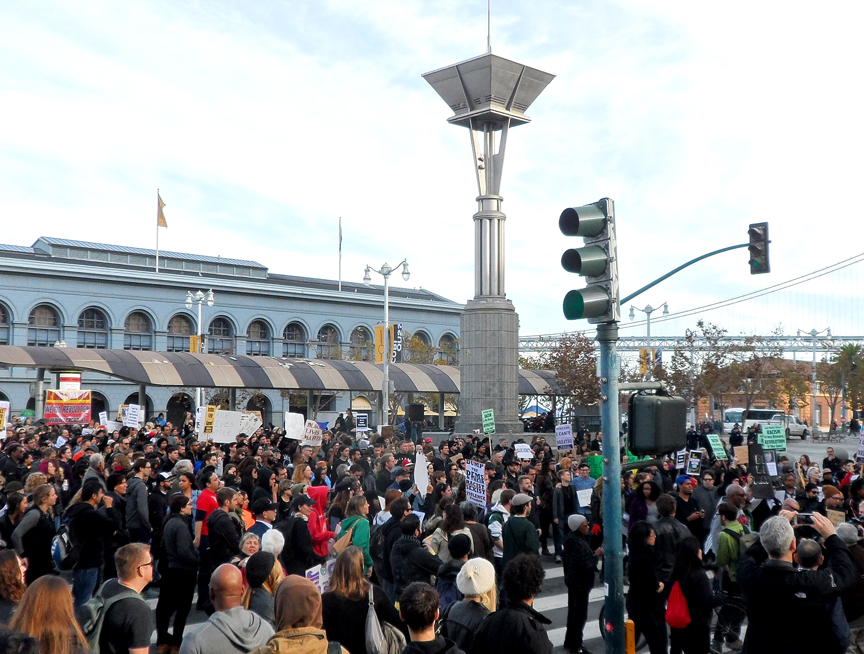 The march began with a short rally at the Ferry Building on the SF Bay.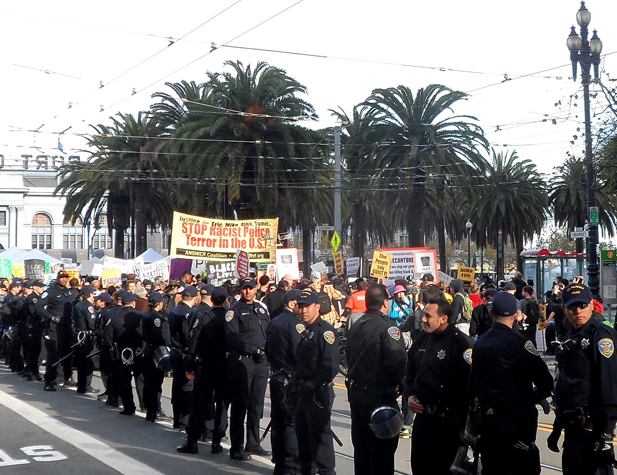 Over-reacting to a handful of Berkeley and Oakland protesters who smashed bank windows last week, dozens of cops earned hazardous duty overtime pay by lining both sides of the street and escorting the obviously peaceful march along Market Street, San Francisco's main business thoroughfare.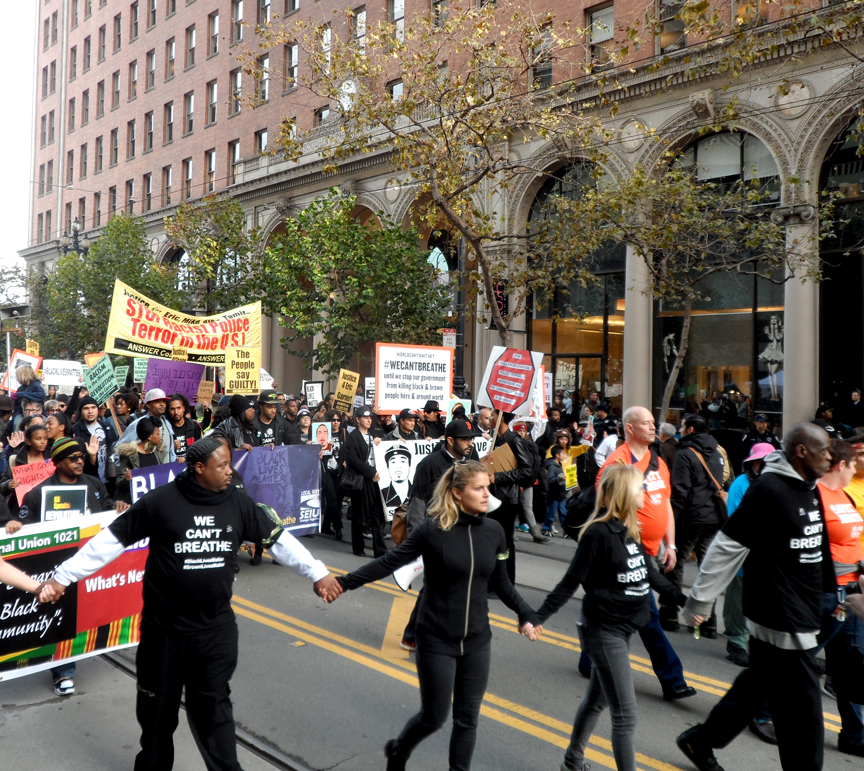 The march, led by its own monitors, takes off up the two mile route along Market Street.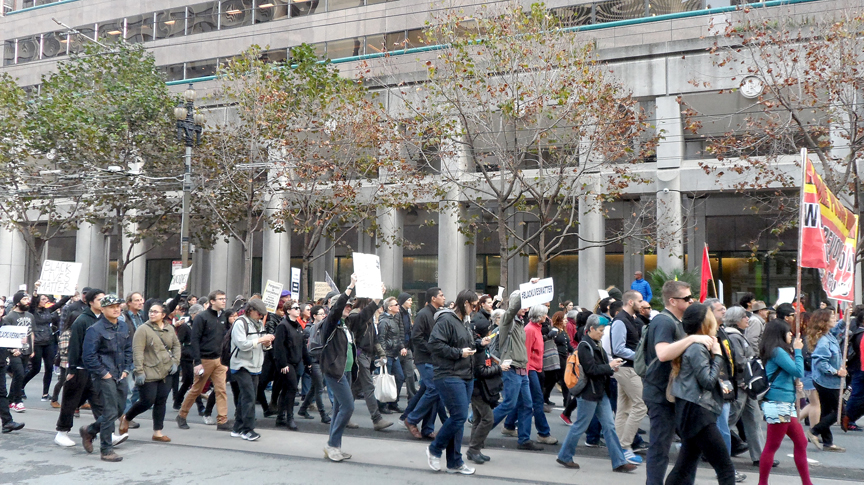 The march passes the Federal Reserve, ground zero of 2011's Occupy SF movement.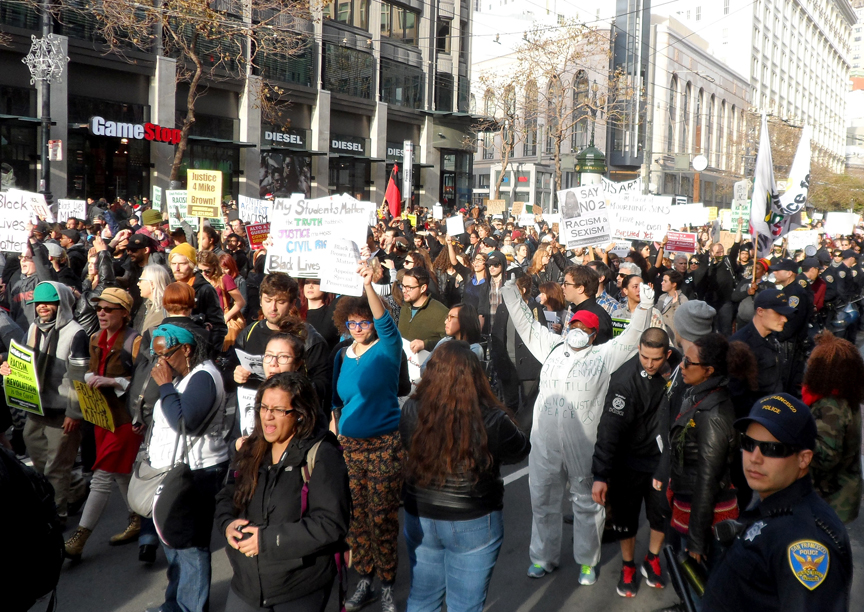 A diverse crowd.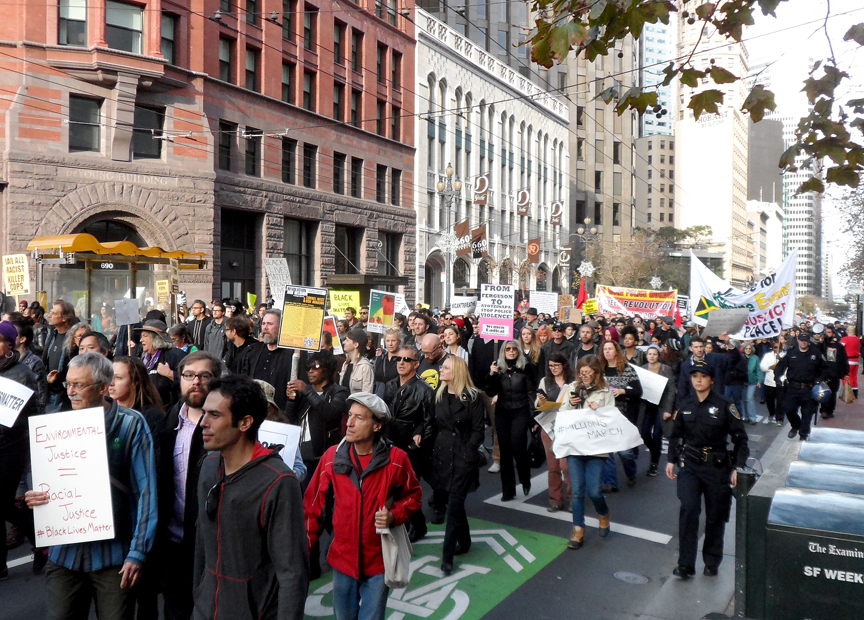 Leaving the skyscrapers behind, the march heads into the Powell Street shopping area.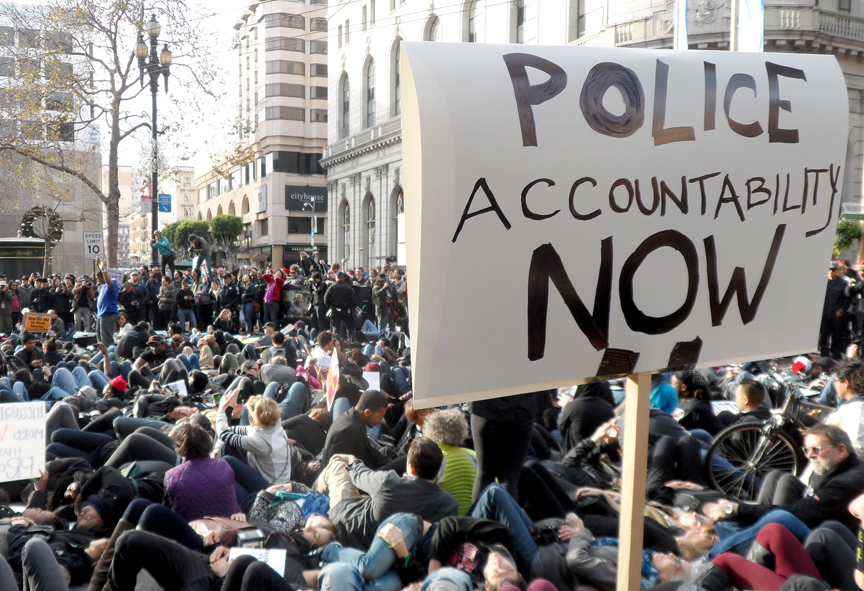 Protesters stage a mass die-in in memory of victims of police violence near the Powell Street shopping area.
Right-click on a photo to open full-sized image.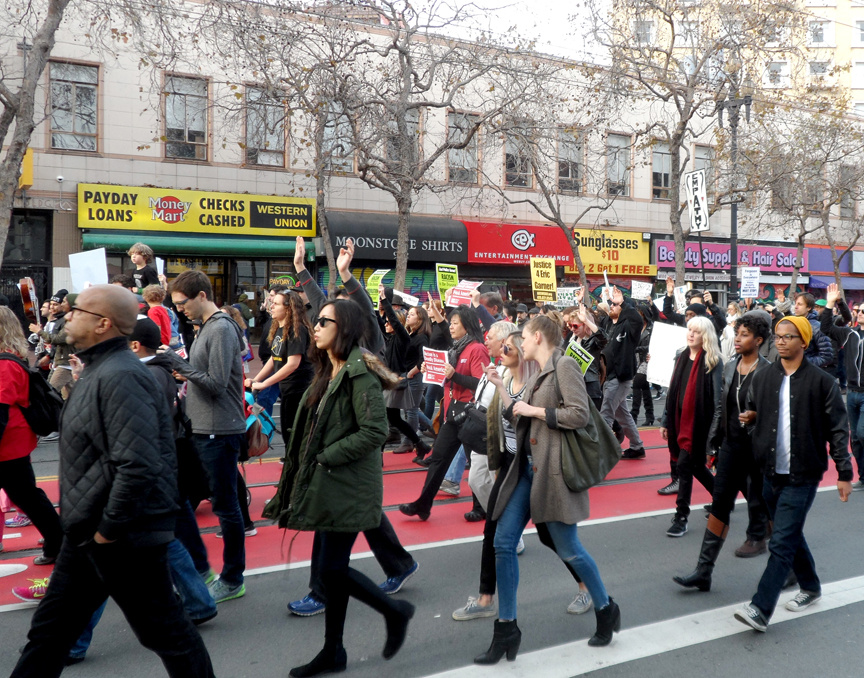 The march passes a block of amall shops, one of the last remaining "low rent" districts of downtown SF.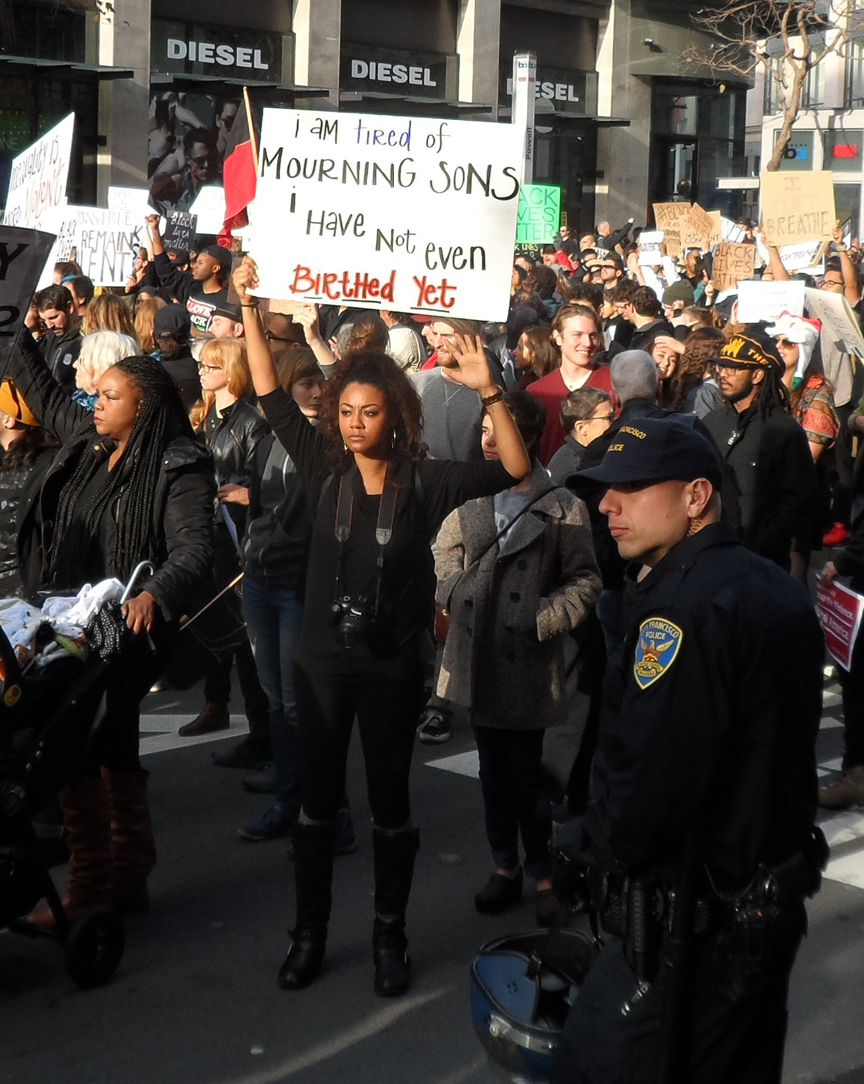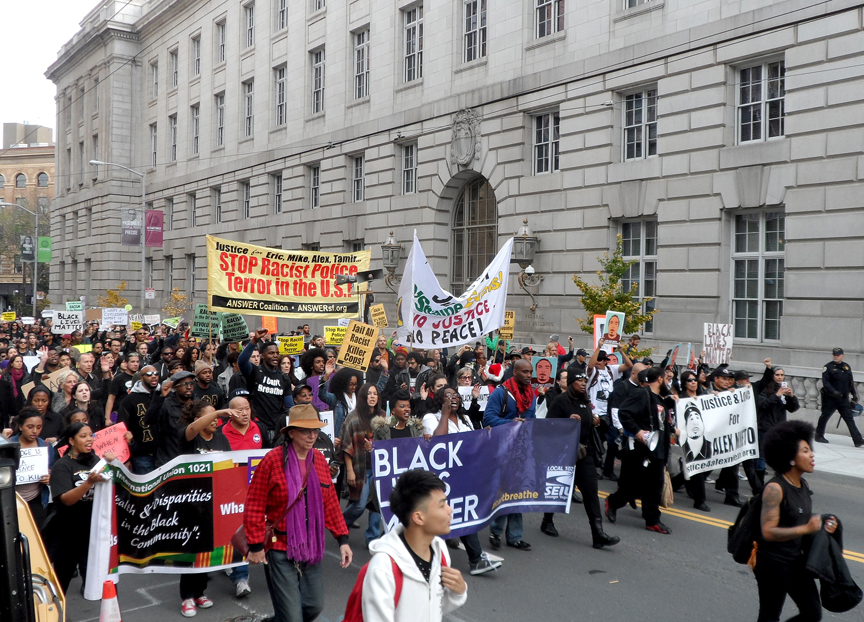 The march heads toward Civic Center.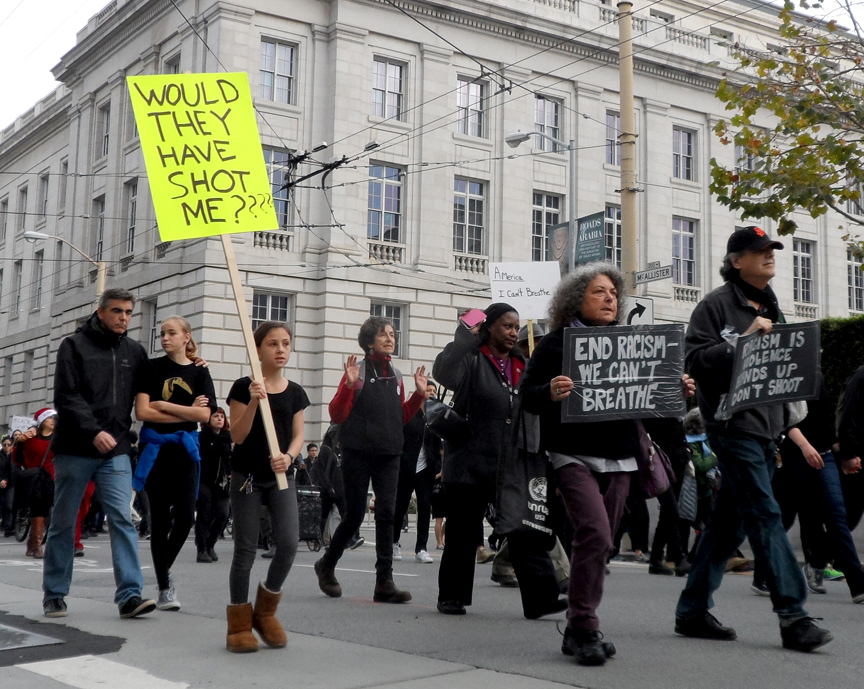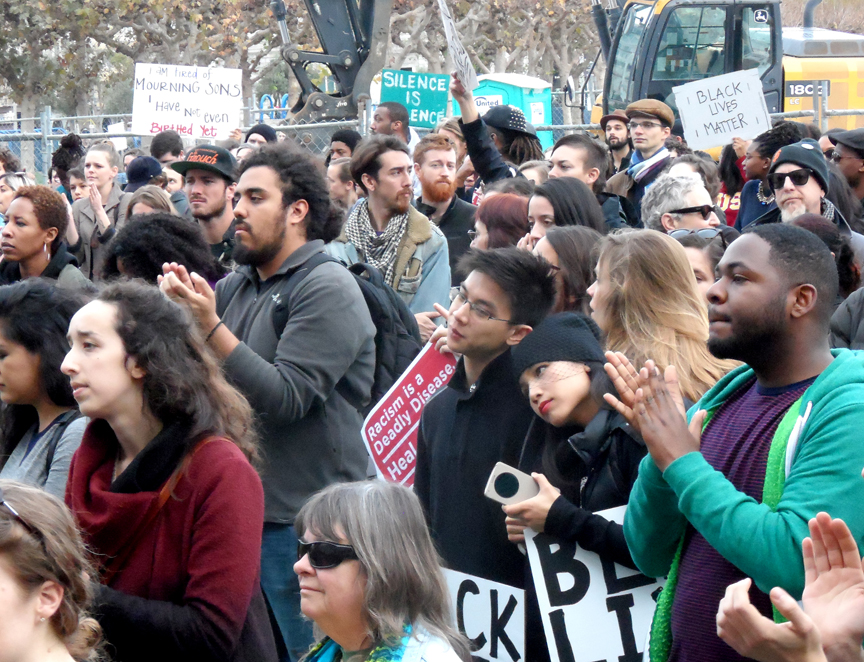 The crowd gathers in front of City Hall...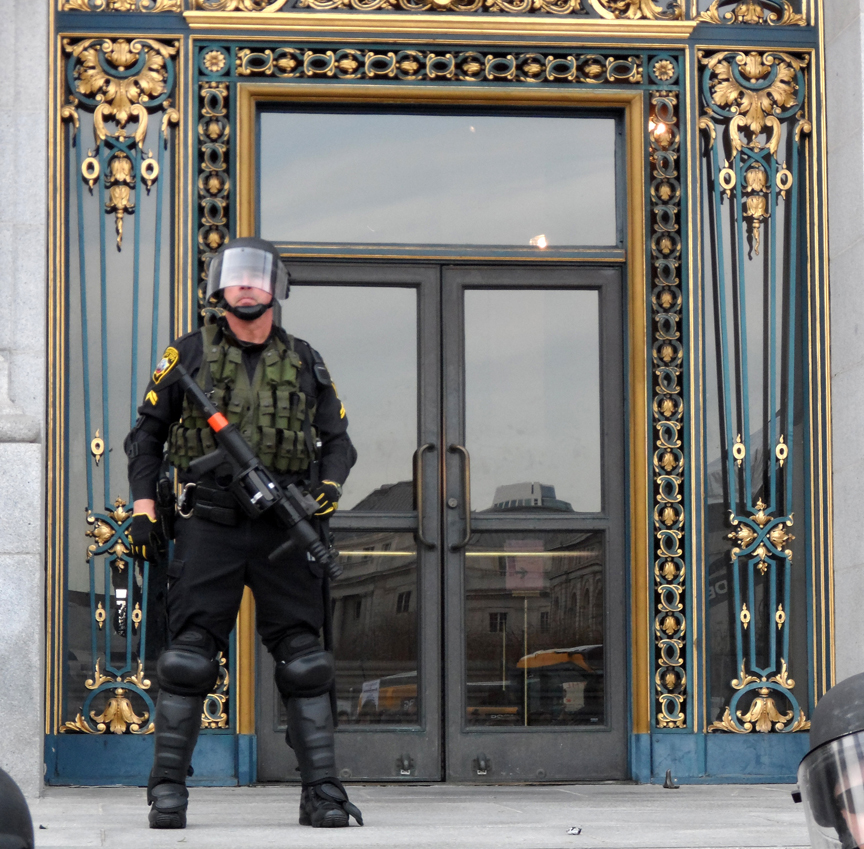 ..where they are welcomed by officials of the local government who take pains to show their stand on the issue.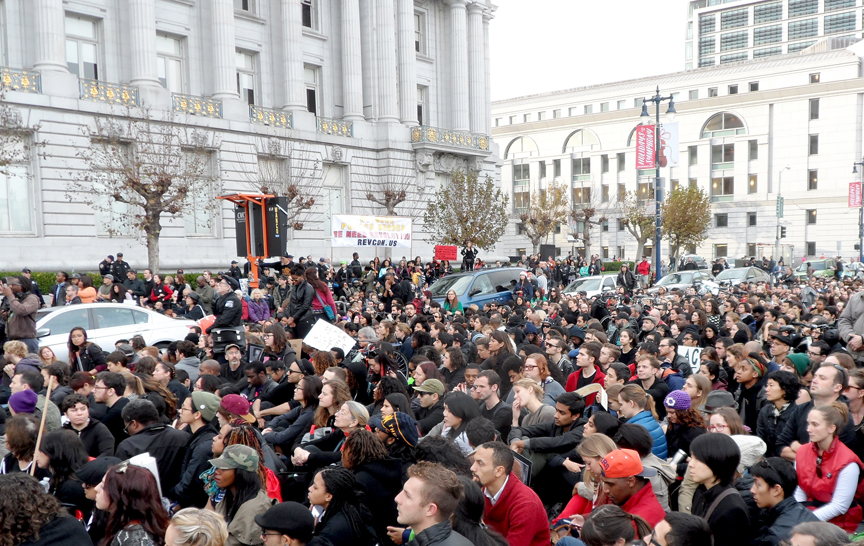 Gradually the marchers sit down in the street in front of City Hall.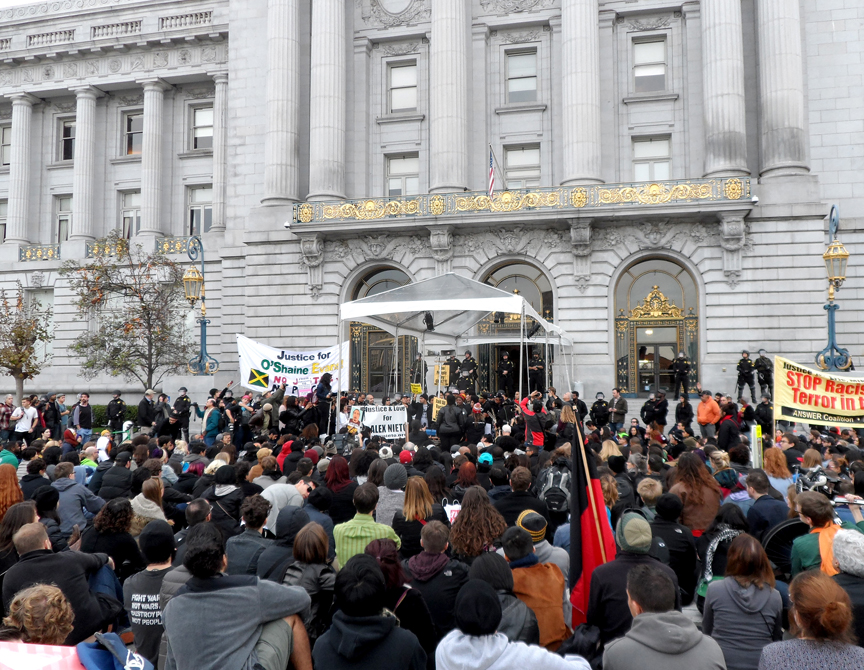 Denied a permit to use the steps of City Hall for a closing rally, protest organizers set up a makeshift pavilion and PA system for family members of victims of local police killings, poets, and community organizers to address the crowd.
Right-click on a photo to open full-sized image.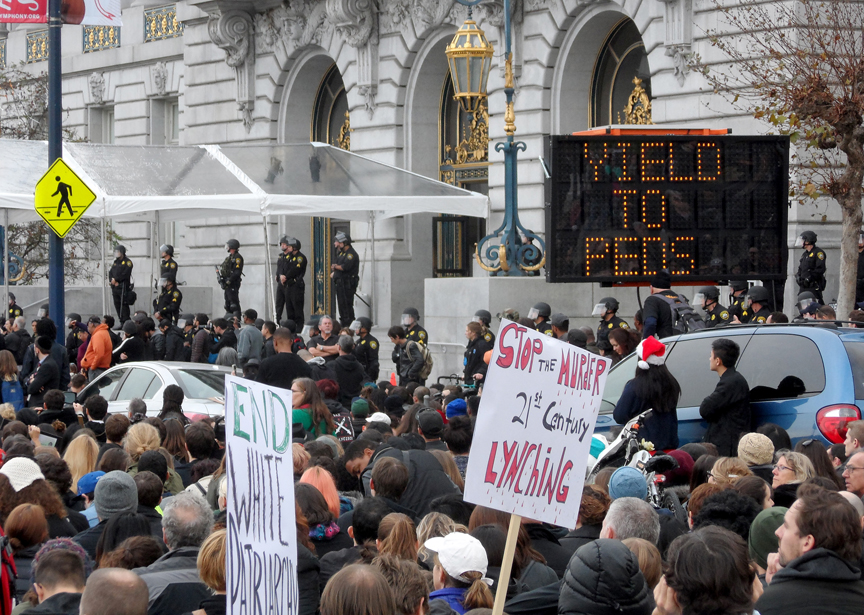 Police may have denied us the steps, but the traffic signs were on our side!
---
If you appreciate this feature - and want to support RQ and Reclaiming youth organizing - please donate to RQ!
---
Luke Hauser
(aka George Franklin) is a freelance parajournalist in the service of the Goddess and planetary revolution. His photo-filled book Direct Action is an historical novel about Bay Area protests.
Photos ©2014 by RQ. Please do not copy, reproduce, fold, spindle, mutilate, or otherwise use them without written permission (which we are usually glad to offer). Thanks!
---