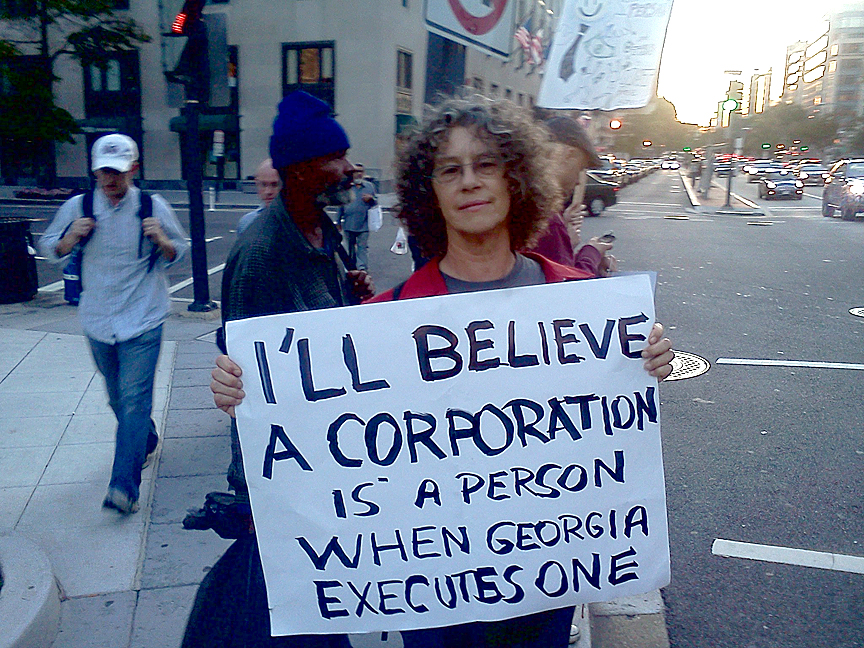 Occupy DC and Related Features
Please donate to RQ - your support makes our site possible!
---
Click here for Day Two Report | Day Three Report
OccupyDC adopts consensus
By Yarrow | Photos by Elaine
A few of us are at the #OccupyDC General Assembly, witnessing the assembly adopt consensus as its decision-making process.
We strain to hear the participants. Cars come and go honking their support, heartwarming and ear-splitting. Clearly many here are well-versed in consensus, but they are cutting no corners. Someone compliments the facilitators on their respect for freedom of expression and asks for a similar respect for time. Shortly thereafter the consensus process is adopted by a sea of twinkles and we hoot and holler.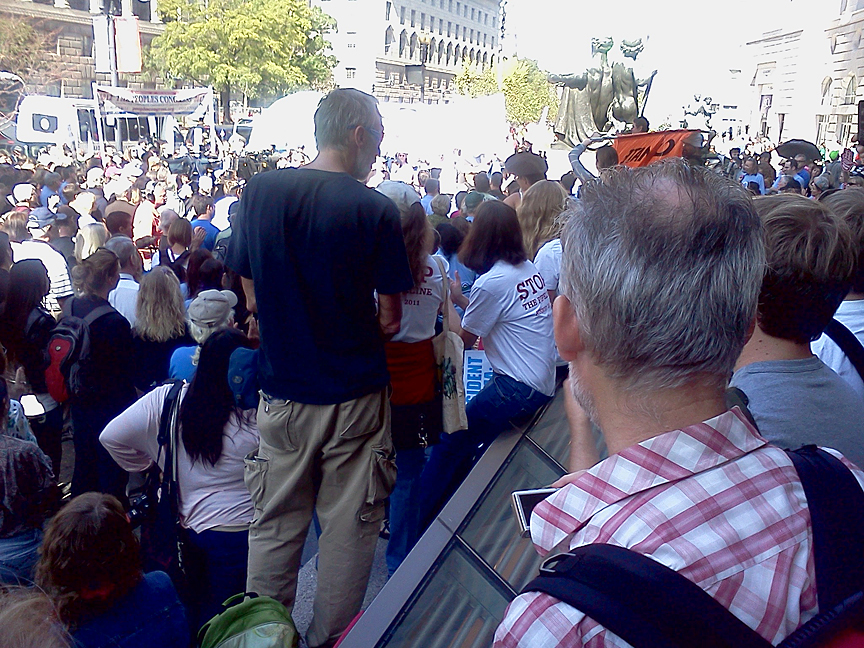 The slow process continues. There is a call for concerns, standasides, and blocks on the question of how much time to spend discussing the hot question of the last few days: how to handle relations between #OccupyDC and the October 2011 group. That discussion is passionate and generous: these folks are from DC; most of October 2011 is not. That truth is spoken. As is the truth that goals of the two movements are the same.
We're not DC residents either, so we witness. The meeting is awkward, long, and slow. And it touches the heart. The care taken here, and the patience of the assembly with that care, with each other, is an opening to a better world.
Love, Yarrow
---
Scattered sleepy notes
A chant from the #OccupyDC march today:
Occupy Wall Street
Occupy K Street
Occupy everything
And never give it back
Juniper says there were 1000 at Occupy Austin's first day. I may make it back home in time for the second Occupy Richmond General Assembly. Occupy everywhere!
Tonight's OccupyDC General Assembly was three times larger than last night's. Its process was three times more effective, partly because Elizabeth was helping to facilitate, partly because folks here are practicing constantly, partly because they're soaking up information atan amazing rate.
We had a wonderful spiral dance after the music ended at Freedom Plaza. Gloria, who worked the crowd to let people know it was coming, said about 2/3 already knew what a spiral dance was.
Love, Yarrow
---
Taking to the Streets
The #OccupyKSt (or #OccupyDC) march today took the streets today (previous marches I'd been on had been on the sidewalks). Very high energy, and many smiles and waves from people on the sidewalks and in cars. I particularly remember one woman beaming blissful from a car whose progress was delayed by our passage. Our numbers grew as we marched -- including, for a while, a group of delighted middle school girls.
This is the seventh day of the occupation. The general assembly tonight was three times the size of the fifth day's occupation, which was three times the size of the fourth day's occupation. Even with the surge of new folks, and a contentious issue to contend with, the consensus process did well. Starhawk gave a facilitation workshop yesterday and eddy did one today, also co-facilitating the meeting. The contenious issue was a guideline from the first day, saying the occupation would obey the law. Since that forbids civil disobedience, the group clearly felt it should go -- but wasn't entirely clear on how to replace it. A small group will work on a proposal to bring to the next meeting.
As eddy was facilitating the Occupy DC general assembly, Starhawk was facilitating the Stop the Machine general assembly a few blocks away, followed by a spiral dance and yarn-weaving ritual. (No, the Pagan Cluster isn't taking over the world -- we're most of us going home in a day or two.) I'll be going home myself tomorrow -- to an #OccupyRichmond meeting.
Love, Yarrow
---
Please donate to RQ!
---
Luke Hauser
(aka George Franklin) is a freelance parajournalist in the service of the Goddess and planetary revolution. His photo-filled book Direct Action is an historical novel about Bay Area protests.
Photos ©2011 by RQ. Please do not copy, reproduce, fold, spindle, mutilate, or otherwise use them without written permission (which we are usually glad to offer). Thanks!
---