Like this feature? Please subscribe or donate today! - RQ needs your support to survive!
---
Five-Minute Labyrinth
How to draw a labyrinth by yourself
Here's a fun, quick way to make a Cretan labyrinth with a group. Try scuffing it into sand at the beach, using chalk on pavement, cornmeal on a forest floor, or straw on dirt. These instructions are for a group of seven people, but are easily adapted for a smaller group. Making it is like a dance!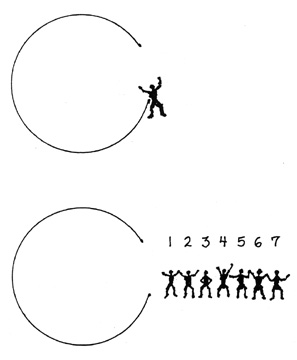 A. Make the center as large as you want. It can be large enough to hold the whole group, if you have enough room. Make the opening to the center about two paths wide.
B. Seven people stand in a line below the opening to the center. How far apart you stand determines how wide the paths will be. Make sure you have enough surrounding area for all seven people to walk completely around the center (see step 6).
C. Draw an anchor line straight down from the center, reaching all the way to the seventh person.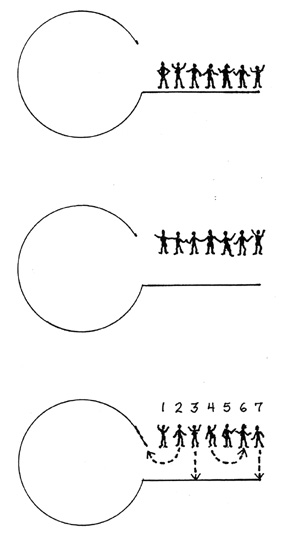 D. Everyone stand back from the anchor line, far enough back for two paths to fit between you and the anchor line.
E. Draw lines as follows:
Person 2 loops around to the center and back.
3 goes to the anchor line and back.
4 loops around to kiss 6 and back.
7 goes to the anchor line and back.
F. Turn around. Everyone walk in concentric circles, making the path lines. Remember to stop two path-widths away from the anchor line on the other side as well - see drawing at left.
G. Move as follows:
Return to Labyrinth Home Page
---
Return to RQ Home Page