An RQ Music List
An evolving list of CD's by Reclaiming, Reclaiming teachers, or folks connected to Reclaiming.
If you know music that should be on this list - contact us!


Reclaiming CD's
Reclaiming Witches' Brew: Songs and Chants from Reclaiming's Cauldron - Fifteen new songs, chants, and meditational instrumentals by Reclaiming teachers and musicians. Our first new recording in 8 years - coming in early 2006! Click here for more info or to order Witches' Brew.
Reclaiming Chants: Ritual Music - A popular 1987 teaching tape, this album features chants taught through Reclaiming's classes and rituals, many of which are now familiar to Pagans around the globe. 21 great chants in all, performed by a small chorus with some hand drumming. Click here for more info or to order this CD.
Reclaiming Second Chants - This versatile recording, produced in 1994, has many wonderful new chants and songs from Reclaiming's classes, summer intensives, and rituals. Arranged with teaching in mind, yet musically varied with a host of instruments. Strong production values make this album a consistent best seller. All lyrics included. Click here for more info or to order this CD.
Reclaiming Let It Begin now: Music from the Spiral Dance - In 1979, our community held the first public Spiral Dance ritual, to celebrate Samhain (Halloween), and the publication of Starhawk's book The Spiral Dance. Since then, the Spiral Dance ritual has been changed and added to, most profoundly by the inclusion of much beautiful, original music. These 11 songs and chants from Reclaiming's Spiral Dance ritual are played in a variety of musical styles, from a capella to full choral arrangements with complex instrumentals. A ritual in itself, this 1992 recording captures as much of the magic of our yearly ritual extravaganza as would fit in the studio! Click here for more info or to order this CD.
---
CD's by Reclaiming Teachers
Anne Hill and friends Circle Round: Raising Children in Goddess Traditions - new Earth-based songs for children and parents. Contact www.serpentinemusic.com

Beverly Frederick In the Arms of the Wild - This album of chants from the Reclaiming community, sung by Beverly Frederick, is dedicated to Julia Butterfly, and much of the music has the wild earth as theme and inspiration. Building on the success of her first album, Beverly brings in violin, harp, oud, harmonium, and backing vocalists to create fuller arrangements for the songs. Contact www.serpentinemusic.com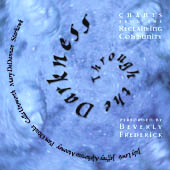 Beverly Frederick Through the Darkness - This debut recording of chants and magical ballads from teacher and priestess Beverly Frederick features 21 songs written by members of the Reclaiming community, including Starhawk. Spare arrangements highlight the mostly a capella treatment of the songs, creating a harmonious, otherworldly musical journey. Contact www.serpentinemusic.com
Brook The Great Blues Sea - Brook's first CD, a collection of Earth-based songs deeply rooted in blues and enlivened with jazz overtones. The skillful melding of blues guitar with Pagan lyrics make brook's music unique. Contact www.magicbrook.com

Brook Love Like a Stream - A live CD from Brook's, Earth-based songs ranging from blues to jazz to pagan chants. The outstanding guitar work adds an extra dimension to this recording. Contact www.magicbrook.com
Evergreen Erb Heart's Longing - Eleven beautiful harp instrumentals, as heard at Witchcamps and rituals. Excellent for meditating, relaxing, or just listening. Contact Evergreen for more info.
Moonrise Songs, of Love, Magic, and Other Mysteries - Songs and chants from the Reclaiming tradition by three singer/musicians who often perform at the Spiral Dance and other Reclaiming rituals. Included is the new Goddess song from the Spiral Dance ritual plus other favorites. Contact Moonrise.
Suzanne Sterling Bhakti - Suzanne has been creating and developing her own blend of devotional music, mixing Middle Eastern and Indian influences with a very strong Celtic background and sensibility. She plays hand percussion, harmonium, and more. This is a deeply devotional album, and is also eminently danceable. Contact www.suzannesterling.com
---
CD's by Folks Connected to Reclaiming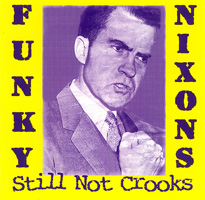 Funky Nixons Still Not Crooks - Members of the Funky Nixons, legendary Berkeley icons whose assault on the aural sensibilities of the San Francisco Bay Area over the past 15 years has earned them the sobriquet "House Band of Peoples Park," have long been seen and heard at Reclaiming rituals and Witchcamps. Songs and photos at www.directaction.org/nixon/
Skyclad Skyclad - Skyclad combines Joe Diehl's incredible guitar work, Suzanne Sterling's honey-smooth, earthy vocals, and understated, compelling lyrics in one of the best acoustic debut albums to come out of the San Francisco music scene, Pagan or otherwise. Contact www.suzannesterling.com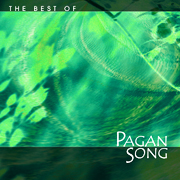 Various Artists Best of Pagan Song - Here are the songs that have shaped the current resurgence of Pagan spirituality. The songs have been culled from literally hundreds of albums produced by Pagans since the 1970s, and feature popular musicians Gwydion Pendderwen, Catherine Madsen, and Velvet Hammer, Gypsy, Todd Alan, Wendy Rule, Emerald Rose, Avalon Rising, and many more. They tell our history, and also chart the evolution of our thought and belief. Contact www.serpentinemusic.com
If you know music that should be on this list - contact us!
---
Return to RQ Home Page