Not in Our Name - San Francisco
November 3rd March Denounces Greed, War
The march left the Powell Street BART plaza as night fell, heading toward the Mission District. Confronted with several thousand marchers, the police closed the westbound lanes of market and the side-streets to allow the march, which stretched for several blocks, to pass.
Later in the evening, about 45 protesters were arrested while blockading streets and were taken the Hall of Justice for booking.
These photos are taken with RQ's Nikon digital camera, which gets blurry in dim light. If you have ideas on how to get better digital shots in poor lighting, drop us a line -- quarterly@reclaiming.org
To get involved in Pagan Custer organizing across North America, visit www.PaganCluster.org, or email RQ
Help RQ keep covering grassroots news and magical activism. Please subscribe or donate today! Your contributions make this magazine and website possible.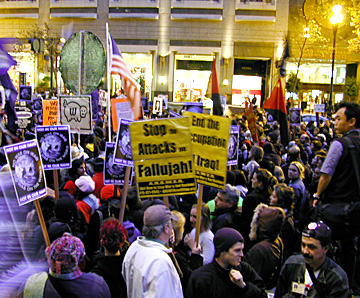 As dusk set in, the crowd grew restless to march.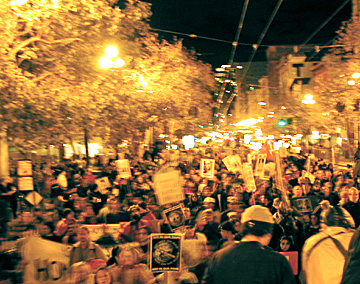 Several thousand people fill the westbound lanes of Market street, the main business artery in San Francisco.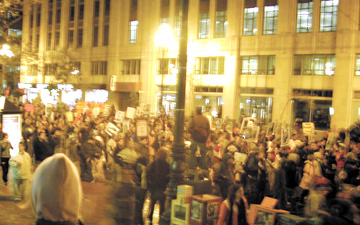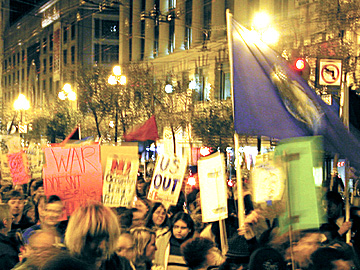 Photo ©2004 by Luke Hauser for Reclaiming Quarterly. Please do not copy, reproduce, fold, spindle, mutilate, or otherwise use them without written permission. Thanks!
---
Like this feature? Please subscribe or donate today!