---
Reclaiming Quarterly Anniversary Archives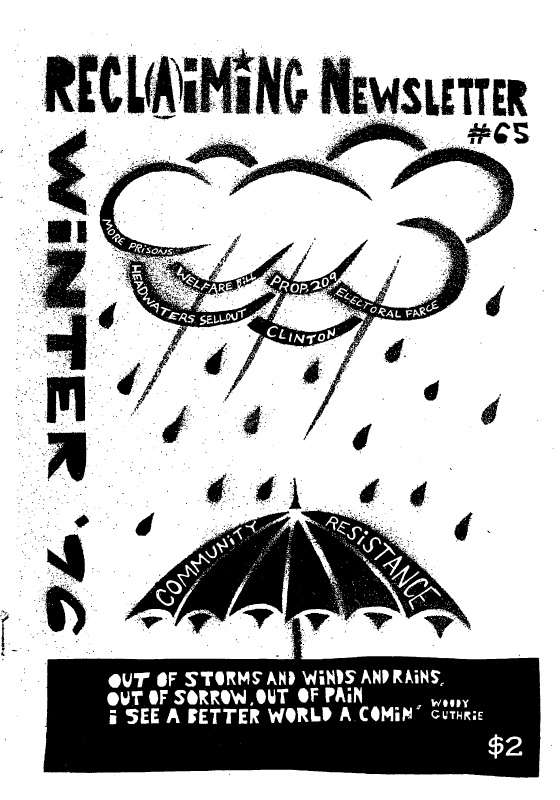 Reclaiming Quarterly celebrates our 100th edition by launching the re-issue of our complete archives, going back to the first Reclaiming Newsletter in 1981.
Our first 10-issue disk is now available!
You'll be able to see and read every page of the original issues exactly as they appeared - stories, pictures, class and event listings, ads, ink-smudges... And you can easily print any pages you want to read off-screen.
In addition, each ten-issue disk contains dozens of bonus features such as photographs, flyers, intoductory and reflective essays, audio recordings, humor and satire, and more.
RQ has placed selected highlights on our website. But most of the archives will be available only on disks.
Invoking Our Past
Our first 10-issue disk is now available - and you don't want to miss it!
For scholars, researchers, and anyone interested in the history of neo-paganism, the RQ Archives will be an invaluable primary source.
For those of us who live and love Reclaiming, it will be much more - a literal invocation of our own history.
For all of us, each ten-issue disk provides hours of inspiring and informative reading - articles by many of Reclaiming's early teachers and organizers fill these issues.
Our first ten-issue is now available!
Under $2 per back issue!
The entire 100-issue archives, along with amazing bonus files, are available by advance order for just $175.
Save money while helping RQ launch our Anniversary Archives by advance-ordering the entire 100-issue collection.
You'll be the first to receive every feature-packed disk - ten back issues plus photos, essays, music, and other bonus materials.
Plus - you'll be supporting RQ's Archives project. Much of the expense of this project is up-front, in equipment and scanning time. Your support now will make our re-issues possible.
You can also order the disks one at a time for $25/disk - that's ten back-issues for just $2.50 each - not to mention all the bonus features!
Our first ten-issue is now available!
Archive subscribers will be the first to see these back issues - you will get your copy before the Library of Congress gets theirs (unless they hurry up and subscribe)!
Tax-Deductibe Donations
Reclaiming is a 501c3 nonprofit, and any donation above the cost of the product is tax-deductible.
Advance subscribers can take a tax-deduction for half of their advance order, and 100% of any further donation. Contact RQ for more information. We are glad to provide a confirming letter for any donation.
---
Return to RQ Home Page