Friday November 2, 7:00pm
Dia de los Muertos 2007
San Francisco
Beginning around 24th and Bryant, Mission District
Ending in Garfield Park (25th and Harrison), with community altars created by local artists.
Help set up altars at Garfield Park on November 2 - contact George
---

Including our new CD, Witches' Brew!
---
More RQ Features
---
If you appreciate this feature and the rest of the RQ website, please donate or subscribe now!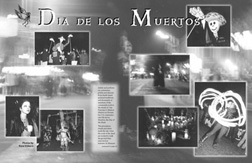 Click on image at right for full-sized photospread from the pages of RQ
---
Dia de los Muertos features
---
Dia de los Muertos - San Francisco
Annual "Day of the Dead" Procession and Altars
Photos by Luke Hauser, (c)2004 by RQ.
Each November 2nd, volunteers from the Marigold Project, the Rescue Culture Collective, Reclaiming, and other groups gather in San Francisco's Mission District to create the Dia de los Muertos procession and altars. The event, now over 20 years running, draws several thousand people to the streets, ending in Garfield Park, where altars to the dead are constructed during the afternoon.
Costumes, candles, and other accoutrements are an important part of the procession, but all are welcome to participate.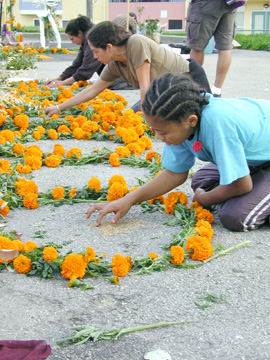 On this page are photos of altar-contruction during the afternoon.
Want to be involved in this year's events? We especially need people to to help set up altars at Garfield Park on the afternoon of November 2. For more information, contact George, (415) 255-7623, george@groundworknews.org
Photos by Luke Hauser, (c)2004 by RQ.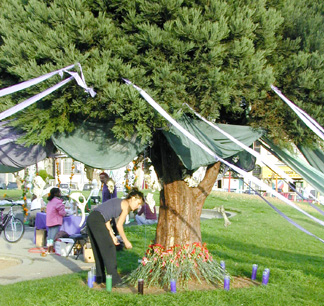 An altar to extinct species was built around the tallest tree in the park.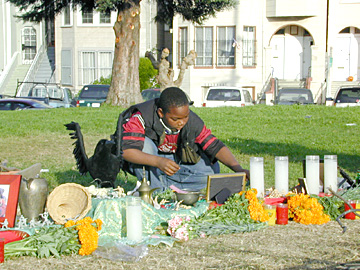 Young people from the neighborhood pitch in to help with altars at Garfield Park.
Mission District florists donate bunches of flowers to decorate the altars.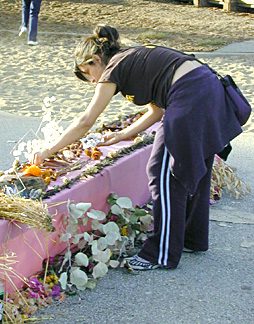 Empty flower boxes are incorporated into the park altars.
Photos (c)2004 by Luke Hauser, Reclaiming Quarterly, except top collage (c)2000 Rene Velasco for Reclaiming Quarterly. Please do not copy, reproduce, fold, spindle, mutilate, or otherwise use them without written permission. Thanks!
Luke Hauser
is a freelance parajournalist in the service of the Goddess and planetary revolution. His photo-filled book Direct Action is an historical novel about Bay Area protests.
---
Like this feature? Please subscribe or donate today! - RQ needs your support to survive!
Return to RQ Home Page