Thursday November 2, 7:00pm
Dia de los Muertos 2006
San Francisco
Beginning around 24th and Bryant, Mission District
Ending in Garfield Park (25th and Harrison), with community altars created by local artists.
Help set up altars at Garfield Park on November 2 - contact George
---
Our new all-devices website!
Visit RQ at our new wix-based, all-devices website. Same great RQ content, now viewable on phones, tablets, etc.
This site (ReclaimingQuarterly.org) is still fully functional, but is no longer being updated.
Visit us at WeaveAndSpin.org!
---

playlists, streaming and downloads
Links to free listening
at youtube, google, spotify, and more!
---
Favorite RQ Features
Older Features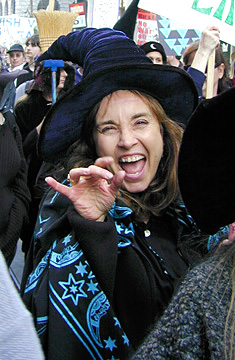 ---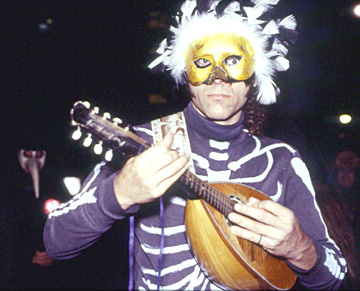 Dia de los Muertos features
---
Dia de los Muertos
by Elka Eastly
Ancestors
Bones under the earth
The flesh reincorporates
With the flesh of the earth
After the harvest
When the veil is thin
Flesh that will rise again
Flesh emerging as green and bud through
The thin skin on the other side
Of the Wheel
But on this day still
The flesh is of spirit
Whispering challenging advising
Pleading for the changes their hands never wrought
Pleading for fulfillment of souls' tasks undone
They have found the freedom of bodiless night
That knows no touch but does not struggle
With economic oppression
On their side there is no worry about rising rents
What to feed mouths and bellies that never hunger
Under our feet and at our sides
Their hunger is of the heart
For their knowledge of our struggles is keen
Like the knife of starvation
Their remembrance is clear and so they mourn
For the living
Not to pull us over not to drag us under
But to lift with the breath of ancients
The wisdoms unwritten
(Or erased)
Are rewritten by our living hands
When the voices of the dead speak
When we offer them our flowers
They remember the rose's scent
And their hearts hunger for that lost sense
When we offer our prayers
They remember their own life's longing
And speak with soothing patience
Or demand swift action
When we offer our thanks
They offer their thanks
Listen...
Flesh of my flesh (your flesh)
Blood of your blood (my blood)
I owe my life to you
Whisper...
Use it wisely
Wiseones tell us
Put down your pistols and pick up
Your paint brushes
Or put down your brushes and pick up
Your boxing gloves
Don't go down without a fight
But don't fight when it's time to go Honor your time
(Timeless commodity, time is not money...
Time is time! Where's the clock?)
In the village there's no clock
There's a bell that marks the time
Timing our coming together and
Not our falling apart
In the city there's popcorn
To synchronize our watches
If the bell can't be heard from hill to hill
From mission to ocean
But there's the rhythm of the heart's beat
Your heart keeps the time and knows
(When you listen)
When to come together
When to converge
When to honor the ancestors
When to lift the veil
From that which must be seen
To be believed
See
Believe
See
Believe
See...
Colors processing in elemental waves
Believe...
Tens of thousands walking as one
See...
Great vision manifest
Believe...
Whatever must can be done
See...
Communities cross boundaries
Believe...
Underneath this flesh
Inside this flesh
Because of this flesh
We are one
Returning always returning
Again and again to the lap of Mother
To curl and rekindle
The fire that rebuilds the bones


Photos ©2002 by Ember Ward, Reclaiming Quarterly, except top collage ©2000 Rene Velasco for Reclaiming Quarterly. Please do not copy, reproduce, fold, spindle, mutilate, or otherwise use them without written permission. Thanks!
---
Like this feature? Please subscribe or donate today! - RQ needs your support to survive!
Return to RQ Home Page