Like this feature? Please subscribe or donate today! - RQ needs your support to survive!
---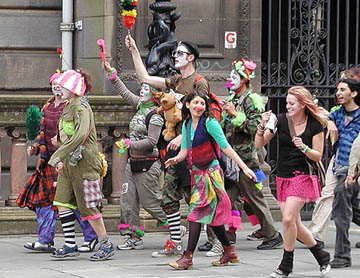 G8 Features
---
G8 Protests - Scotland, June-July 2005
Pagan Cluster Update - July 4
by Sabo
It's Monday afternoon here and everyone is getting ready for the G8 actions. This morning many people, including Starhawk, Lisa and Juniper, went to the Faslane blockade. Others went to an action in Edinborough. I facilitated the morning site meeting while Delyla handled some greywater issues in the kitchen meeting. The rest of the greywater ponds are being dug, and earlier Starhawk trained people from the barrios on how to maintain their greywater systems and assorted toilets. Laura and her kids left; I will miss them.
Saturday Laura and I stayed in camp during the big march to work on the greywater systems. We did some work on the medics' system - adding a pipe to get the water into the middle of the gravel filter, lowering the outlet pipe to provide more open capacity in the tank (and head to move the water), and added innoculated straw and a few drops of waters of the world for good measure. It seems to be working well. We also fixed some piping problems on a couple of the other handwashing stations and even figured out how the tank connectors are supposed to work. Perhaps I will include a demo in the training video.
Sunday was another fun day in the permaculture playground. I worked with a group of people from about seven different countries to put together two systems for the Highland barrio. Many of the people in that barrio are from Findhorn and they brought plants from the living machine that treats the greywater from their community. The front system serves their handwashing sink. It includes a clearwater pond within a bark chip greywater pond, which has been planted with the pond plants. It's quite pretty. For their dishwater, we installed drain pipes that move the water to a ditch with tall plants. To finish the day I set up a worm composting bin using worms given to Starhawk in Edinborough. The worms will be taken back to Findhorn where they should have happy lives. I included plenty of damp corregated cardboard around the clump of worms.
I have been making notes and taking videos of our evolving greywater systems, and have some still photos as well. When I can get online with my computer I will post photos. For now I am greatful to have this email access from Starhawk's computer.
Tomorrow is a big day of training and preparation for Wednesday's actions. The Cluster will do a protection ritual as well.
Our magic for the next couple days focuses on opening portals and keeping them open. We are concerned both about keeping the physical exits from the camp open, as well as opening portals between worlds. We also ask for enough time to do what we need to do.
Blessings,
Sabo

Photos ©2005 by photographers and Reclaiming Quarterly. Please do not copy, reproduce, fold, spindle, mutilate, or otherwise use them without written permission. Thanks!
---
Like this feature? Please subscribe or donate today!