Not in Our Name - San Francisco
November 3rd March Denounces Greed, War
Over 3000 people marched through the streets of San Francisco on the day after the presidential election to denounce Bush's war on Iraq and his pandering to corporate greed.
Across the US, marches and rallies for peace and justice took place in many other cities. Bookmark this site for updates.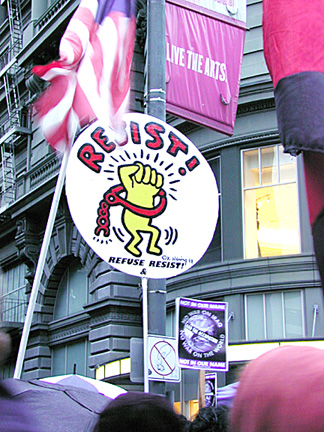 The march began at downtown's Powell Street BART Station around dusk, in a slight drizzle. During the opening rally, the crowd swelled from a few hundred to a couple of thousand. The procession headed west on Market Street, led by a flatbed truck full of Latin percussionists. Many more people joined along the route, and an estimated three to five thousand people marched through the Mission District, core of San Francisco's street-activism community. (The previous night saw thousands of people in the same streets for Dia de los Muertos.)
Later in the evening, about 45 protesters were arrested while blockading streets and were taken the Hall of Justice for booking.
These photos are taken with RQ's Nikon digital camera, which gets blurry in dim light. If you have ideas on how to get better digital shots in poor lighting, drop us a line -- quarterly@reclaiming.org
To get involved in Pagan Custer organizing across North America, visit www.PaganCluster.org, or email RQ
Help RQ keep covering grassroots news and magical activism. Please subscribe or donate today! Your contributions make this magazine and website possible.
---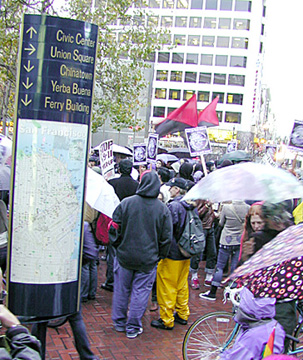 The Powell Street BART station in the middle of downtown San Francisco is a time-honored rallying spot for protest marches. The rainy day threatened to put a damper on the march...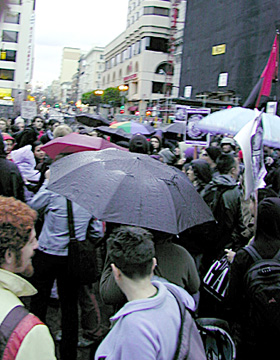 ... but slowly an umbrella-wielding crowd began to gather.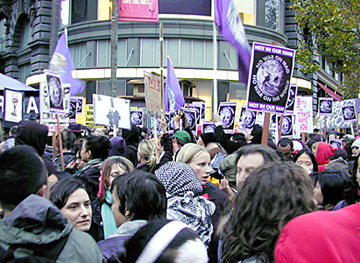 The rain let up during the pre-march rally, and the crowd grew larger.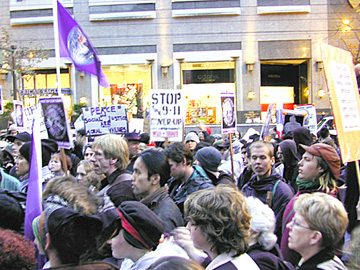 By the time the rally ended, about 2000 people had massed at the BART plaza at Powell Street...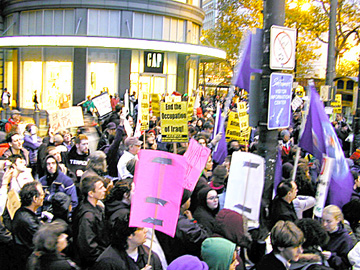 ... carrying a mix of homemade and organization-sponsored signs and banners.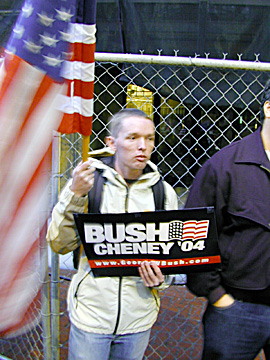 The most enthusiastic of the five counter-demonstrators who gathered to celebrate the president's re-election.

Photo ©2004 by Luke Hauser for Reclaiming Quarterly. Please do not copy, reproduce, fold, spindle, mutilate, or otherwise use them without written permission. Thanks!
---
Like this feature? Please subscribe or donate today!