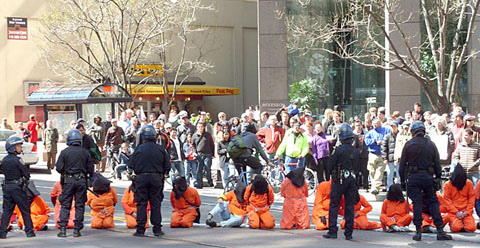 Peace Protest Features
What's happening in your city or region? Send photos and reports to quarterly@reclaiming.org

---
San Francisco, March 2008
Act Against Torture
On March 19, 2008, hundreds of people took part in a peace march, spiritual witness, and nonviolent direct action protesting the United States' ongoing war in Iraq.
Act Against Torture joined the protest, dressed in orange jump suits and black hoods.
The action was coordinated by Direct Action to Stop War.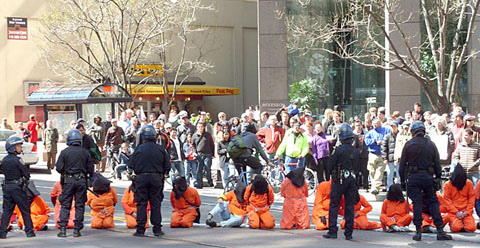 Protesters decrying the torture-prison at Guantanamo joined the blockade of downtown streets.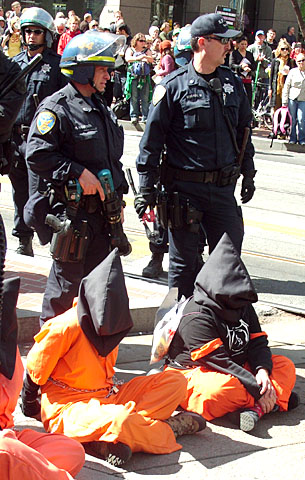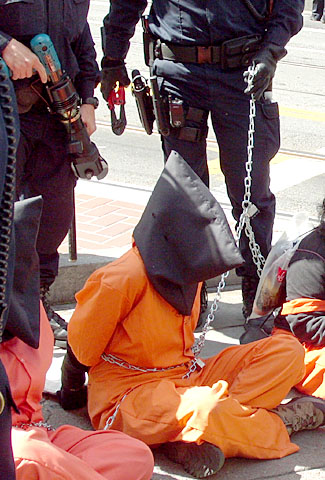 Protesters were linked by light chains. The blue gun is a bolt-cutter.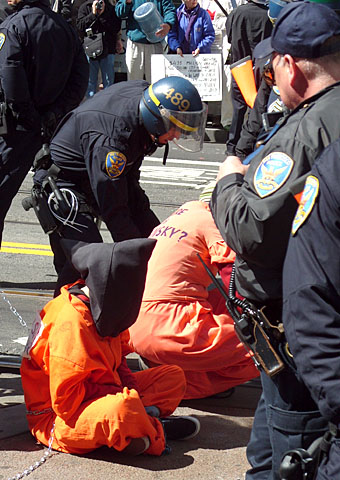 Eventually police moved in and arrested the protesters. As the approached each protester, their first act was to yank the hood off, apparently unwilling to arrest the hooded figures.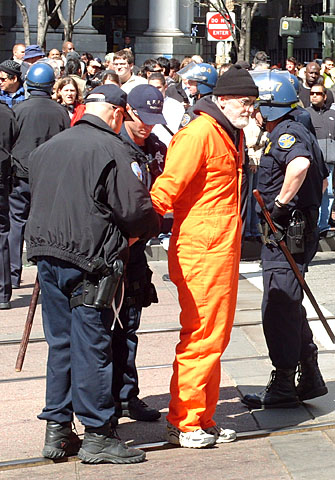 Protesters were arrested, cited, and given future court dates. Most San Francisco civil disobedience arrests result in community service or short jail time.
To return to the first page, click here.
---
Luke Hauser
(aka George Franklin) is a freelance parajournalist in the service of the Goddess and planetary revolution. His photo-filled book Direct Action is an historical novel about Bay Area protests.
Photos ©2008 by RQ. Please do not copy, reproduce, fold, spindle, mutilate, or otherwise use them without written permission. Thanks!
---