Our new all-devices website!
Visit RQ at our new wix-based, all-devices website. Same great RQ content, now viewable on phones, tablets, etc.
This site (ReclaimingQuarterly.org) is still fully functional, but is no longer being updated.
Visit us at WeaveAndSpin.org!
---

playlists, streaming and downloads
Links to free listening
at youtube, google, spotify, and more!
---
Favorite RQ Features
Older Features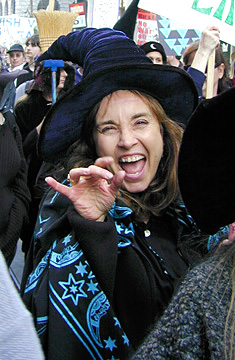 ---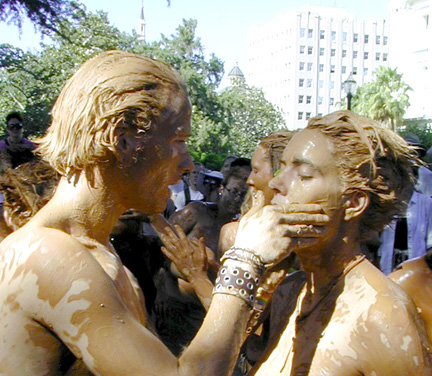 Sacramento Biotech Features
---
Sacramento WTO-Agribiz Protests
Sacramento - June 20-25, 2003
Photos by Luke Hauser, ©2003 by RQ
Several thousand people marched through the streets of Sacramento on Monday afternoon in opposition to the meeting of government ministers and corporate reps from 180 nations to pave the way for "free trade," privatization of water, and factory farming.
Members of the Pagan Cluster joined the march, then did an Earth People ritual and action later in the afternoon of Monday, June 23.
Skip ahead to the Earth People ritual and action
---
Photos of the March Against Corporate Biotech
Photos by Luke Hauser, ©2003 by RQ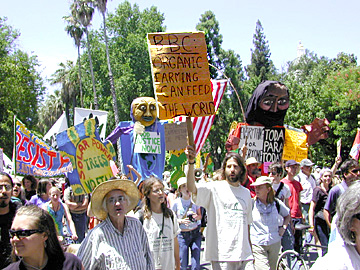 The crowd of several thousand carried signs and banners protesting genetically-modified foods and products, factory farming, and "free trade."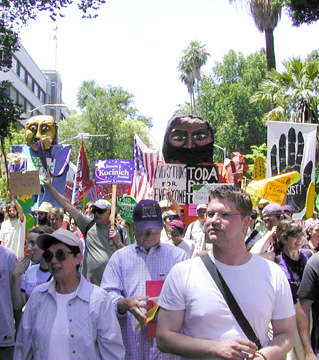 Concerned for the well-bring of Sacramento's citizens, the local police department prepared a full-scale military defense of the state capitol. Hundreds of police on horses, motorcycles, foot, and even in the back of pickup trucks patrolled the perimeter of the legally-permitted march. Armaments included sublethal projectile guns and stun guns.
Art and Revolution's puppets highlighted the rally and accompanied the march around town.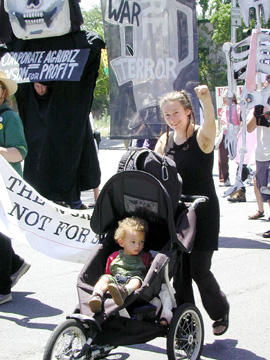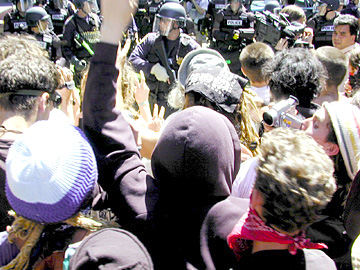 Back in the park after the march around downtown, the crowd relaxed in the grass on the hot Summer afternoon -- only to be informed that our permit for the area had expired and we were now an unlawful assembly. A skirmish developed between several squads of riot police and Black Bloc members, who were supported by part of the crowd.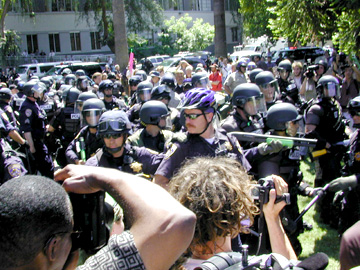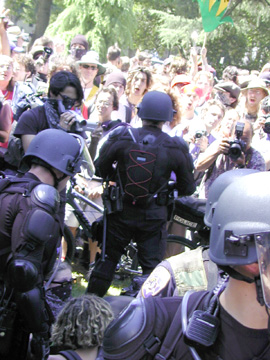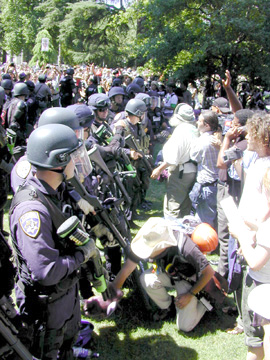 The crowd prevented several arrests, and the police backed up, formed a cordon, and made no further effort to drive the crowd from the park. After the standoff with the police, the Pagan Cluster gathered for a ritual which culminated in an Earth People march through downtown Sacramento.
---
Luke Hauser
is a freelance parajournalist in the service of the Goddess and planetary revolution. His photo-filled book Direct Action is an historical novel about Bay Area protests.
Photos ©2003 by RQ. Please do not copy, reproduce, fold, spindle, mutilate, or otherwise use them without written permission.
---