Samhain Through Children's Eyes
Maya and Julian Litauer-Chen have participated in many Reclaiming rituals in San Francisco and the North Bay, including several Spiral Dances. RQ interviewed them following the 2001 Samhain ritual, when they were four-and-a-half years old.
Photo - "John Cody Chanting," by Cynthia Cirile.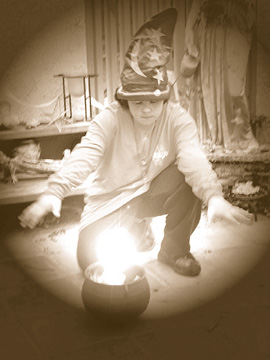 RQ: How did you like the Spiral Dance?
J: I liked all of it. I liked that they were singing, and I liked that they sang the songs we have on our tape.
M: I liked the spiral.


RQ: Did you like the altars?
M: Just the Water altar.
J: I liked all the altars. The Water altar was my favorite.
M: Mine, too.


RQ: What else can you tell us about the Spiral Dance?
J: I liked that we drove our car in (into the huge building to unload altar supplies). I liked the little secret place where we put our things (behind the South altar).
M: I was a little scared.


RQ: What was scary to you?
M: The people on stilts.


RQ: What invocations did you like?
M: I liked the Fire and Water invocations.
J: I liked that our mom waved a big blue cloth (as part of the Water invocation). I liked the whole Spiral Dance.


Interview by Ewa
Click here for info on this year's Spiral Dance ritual.
---
Return to RQ Home Page