---
The Spiral Dance
History and Traditions
Here is a collection of RQ features from past issues on the ritual and the history of the Reclaiming community - reflections, humor, photos, music, andmuch more. Photos are interspersed in the articles. A slide-show gathers all the images for easy viewing.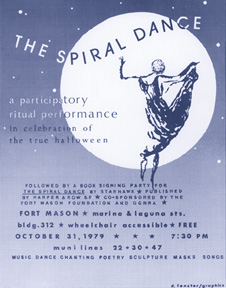 Spiral Dance YouTube Video, by Riyana Sang and Starhawk
Spiral Dance music - songs and chants from the ritual plus more Reclaiming music - samples and online ordering
Spiral Dance - article and photos from 2009, by Gede Parma and Michael Rauner
Spiral Dance vs The Clash - a mashup in honor of our shared home at Kezar Pavilion!
Kezar Pavilion - home of Spiral Dance - gets a makeover just in time for the ritual
The History of Reclaiming - A Slide Show by Reclaiming Quarterly
It Was 20 Years Ago... - RQ cell member Georgie Craig interviews three of the core organizers of the first Spiral Dance ritual, accompanied by classic photos from that seminal event.
Spiral Dance Through the Years - a chronology of the Samhain ritual in San Francisco
Dialectic of the Spiral - a dozen Spiral Dance satires from the pages of the Revolutionary Pagan Workers Vanguard
Samhain Through Children's Eyes - an interview with Julian and Maya Litauer-Chen
Reclaiming-Tradition Witchcraft by M. Macha NightMare
Our Many Names: Pagan, Witch, Wiccan - East Coast teacher Grove continues the ongoing discussion of "who we are" by surveying Vermont Witchcampers on their religious identities.
Who Are We? Where Did We Comes From? - longtime Reclaiming teacher Vibra Willow discusses the origins of Reclaiming and its evolution to the present.
It's Reclaiming After All - sung to the tune of "It's a Small World After All"
To See Ourselves As Others See Us - a review by Anne Hill of Jone Solomonsen's Enchanted Feminism
Enchanted Feminism and Courageous Scholarship - a review by 3-D Circle of of Jone Solomonsen's Enchanted Feminism
How Does Reclaiming Work?! - Interviews with Reclaiming teachers and organizers, including Liz Rudwick (UK), Maggie nicAllis (NJ), Rose May Dance (CA), Irish Flambeau (GA), Tami Griffith (CA), and BrightFlame (PA)
Why I Call Myself Pagan - by Sam Webster
The "W" Word - Why We Call Ourselves Witches - by M. Macha NightMare


Spiral Dance ritual information - click here