---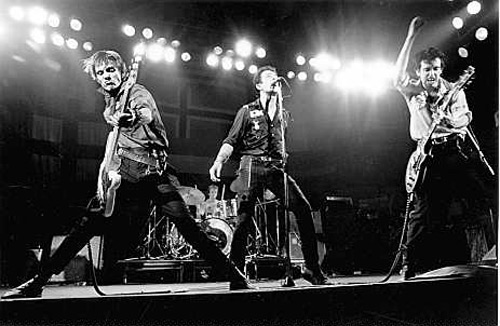 The Clash
at Kezar Pavilion
Saturday, October 13, 1979
by George Franklin/RQ
As part of our ongoing historical research into the antecedents of the Spiral Dance ritual at San Francisco's Kezar Pavilion, our archival experts have unearthed a trove of information on an October 13, 1979 concert by The Clash.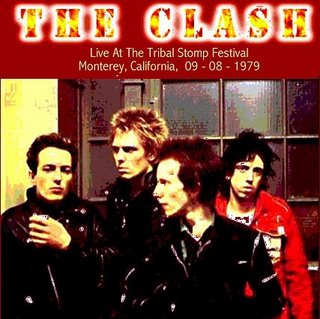 In honor of this proud legacy, RQ has produced a special mashup tape: Spiral Dance vs The Clash. Get a sneak preview of what might be swirling through Kezar on ritual night. (Kezar Pavilion has been home to the Spiral Dance since 2005. Prior to that it was held at Fort Mason, The Women's Building, and the Hall of Flowers in Golden Gate Park.)
Then at their early peak, the band played much of their first album and a lot more. Simply reading the set-list warmed my heart and made me look forward to being back in Kezar Pavilion.
The show was part of the Take the Fifth Tour, an interesting American reference from a rabidly English band.
The supporting acts featured an early show by SF hardcore band The Dead Kennedys (with singer Jello Biafra), who later headlined Rock Against Reagan and Rock Against Racism shows. The Cramps were also on the bill.
Bootlegs of this concert are said to exist - anyone know of a copy? Email quarterly@reclaiming.org
Live photo from unknown concert c. 1980. Small poster from Tribal Stomp, held in CA about a month before the October 13 Kezar show. Clash City Rockers poster probably from c. 1978.

---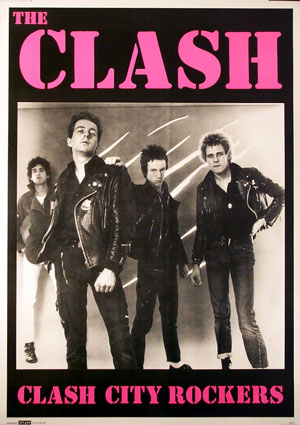 THE CLASH AT KEZAR - SET LIST
Partial - web sources do not agree
Safe European Home
I'm So Bored with the USA
London Calling
Jail Guitar Doors
Wrong Em Boyo
The Guns Of Brixton
White Man in Hammersmith Palais
Clampdown
English Civil War
Koka Kola
I Fought the Law
Clash City Rockers
Police and Thieves
Stay Free
Complete Control
Career Opportunities
Janie Jones
Garageland
Be Bop A Lula
---
The Spiral Dance through the years - a chronological chart
Click here for info on this year's Spiral Dance ritual.
---
Return to RQ Home Page