Who Are We? Where did We Come From?
by Vibra Willow
Photos ©1979 by Kevyn Lutton, from the first Spiral Dance ritual
Just yesterday, it seems, a typical Reclaiming ritual meant a circle of perhaps 25 or 30 folks on a San Francisco beach holding hands in the fog and the wind as often as in the sun. We'd run shrieking into the surf and back to the fire before the park rangers had time to notice, keeping an eye on the kids running in a small pack, silhouetted on the cliffs above. A really big ritual like the Spiral Dance meant a crowd of 350 in the Women's Building, where the same people set up the room, greeted the participants and led the ritual, swept the floor and turned out the lights.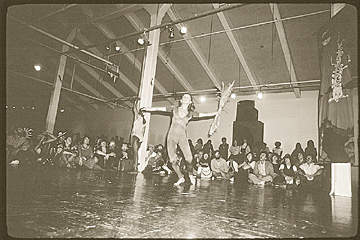 We knew each other's names, attended each other's birthday parties, visited in each other's backyards. Some of us were housemates, some were lovers, many were family, most were friends, none were strangers. We were Reclaiming.
Now we are on the cusp of a new era, and thousands of people throughout the United States, Canada, and Western Europe identify themselves as Reclaiming Witches. There are dozens of teachers who have never met each other, and independent Witchcamps. Our little newsletter, which used to be typed up and painstakingly laid out in our dining rooms using a homemade light table, has grown into this computer-produced, shiny, respectable magazine.
How on Earth did it happen?
It is impossible for any one person to tell the entire complex and fluid story of Reclaiming - which after all is still unfolding - but I offer here highlights and basic information which I hope will help to orient those who may be newcomers, and perhaps fill in some gaps even for those who have been around for awhile.
Reclaiming Tradition is a form of modern, feminist Witchcraft which was initially developed in the classes, workshops, summer programs and public rituals of the Reclaiming Collective (1978-1997). A living religion which continues to evolve, it is a belief system and a style of ritual and Magic, not a church or organization with any kind of formal membership that one can "join."
The Principles of Unity, a statement of core values in the Reclaiming Tradition written by the Reclaiming Collective in 1997, appears online on Reclaiming's Web page. Fundamental value is placed on reverence for the Earth, the natural cycles of life and death, individual autonomy, non-violence, feminism, and responsible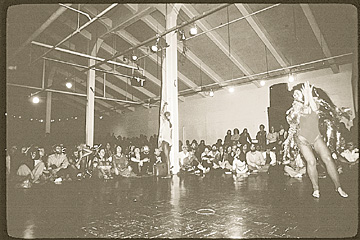 other retreat was held in November 1997. Creating the structure for Reclaiming in the Bay Area which exists today, consisting of the Wheel, various working Cells, and the Advisory Council, the Collective dissolved itself. Reclaiming Witches in other places organize themselves (or not) as they will. There is no central authority and all Witch Camps are autonomous.
The Wheel of Reclaiming today holds the legal identity of Reclaiming as a tax-exempt religious organization. Its members are chosen by the working groups, known as "Cells," who do various projects in the name of Reclaiming. For example, the Cell that publishes the Reclaiming Quarterly, the Cell that teaches core classes, and the Cell that works on special, one-time projects each have a representative on the Wheel.
The Wheel makes decisions by consensus and is empowered to act in the name of Reclaiming in a legal context, to make policy decisions, and to recognize new Cells. It is located in the San Francisco Bay Area. It has spent its first two years keeping things running and beginning to address many basic questions of policy, structure, and finances.
Reclaiming Cells now include: Administrative, Community Building, E-Cell (website), Inside (prison ministry), Quarterly Magazine, Spiral Dance, Special Projects, East Bay, North Bay, and San Francisco Ritual Planning, North Bay Teachers, San Francisco/East Bay Teachers, and Youth. Some Cells are sometimes inactive.
The Work of Reclaiming includes:
Reclaiming Community includes people, primarily in North America and Western Europe, who identify with the Reclaiming Tradition of Witchcraft. Generally, these are people who have attended Reclaiming classes, workshops, or intensives and agree with the Principles of Unity. Many have become involved in working with the Cells in the San Francisco Bay Area and others have developed programs and projects in their own areas based on Reclaiming teachings. (Click here for information on regional Reclaiming-tradition groups.) The Community also includes those who just attend rituals or other events, or who practice the Reclaiming tradition in their own covens, circles, or as solitaries. Community members often participate in political actions directed toward non-violence, social justice and a healthy planet.
Vibra Willow was in the Reclaiming Collective from 1985 until its dissolution and has been a member of the Advisory Council, the E-Cell, the Inside Cell, the Spiral Dance Cell, and the East Bay Teachers and Ritual Planning Cells.
Photos ©1979 by Kevyn Lutton, from the first Spiral Dance ritual.
Click here for info on this year's Spiral Dance ritual.
---
Return to RQ Home Page