Teen Activism
---
Teen Activism Retreat
Starhawk and Dress join Teen Earth Magic for activist prep
Twenty teens, youth mentors, and teachers gathered in late February 2011 with longtime activists Starhawk and Dress for a weekend direct action intensive in Sonoma County, California.
The weekend included discussions, role plays, singing, group-building, and the liberation of the well-guarded fortress from the powers of All Bad Things.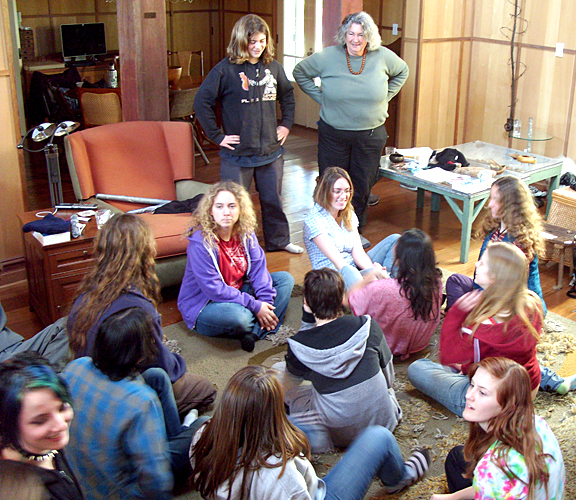 Teen activism prep with Starhawk and Dress and Teen Earth Magic teachers.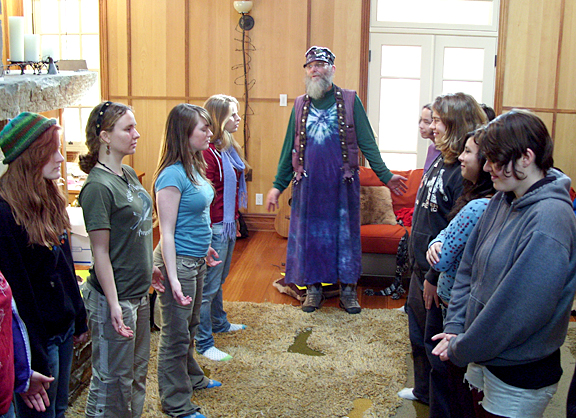 Encounter group work prepares people for the tensions and pressures of protesting...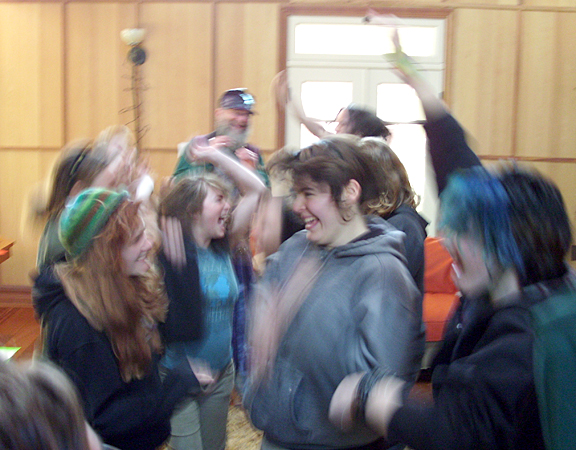 ...and for the fun and excitement too.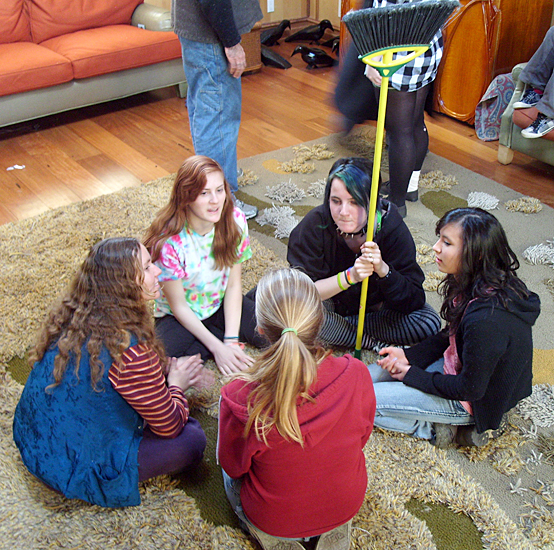 The Broomsticks, one of four action affinity groups for the final role play, makes plans. Dividing protesters into smaller affinity groups allows for diverse tactics and more flexibility during an action as well as more intimate connections.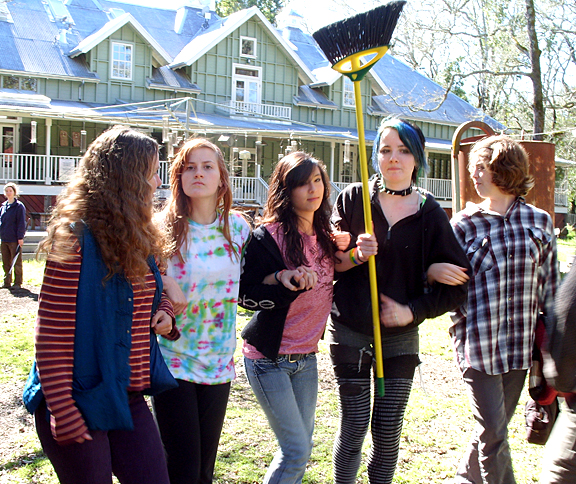 The Broomstick AG advances toward rhe heavily-defended fortress.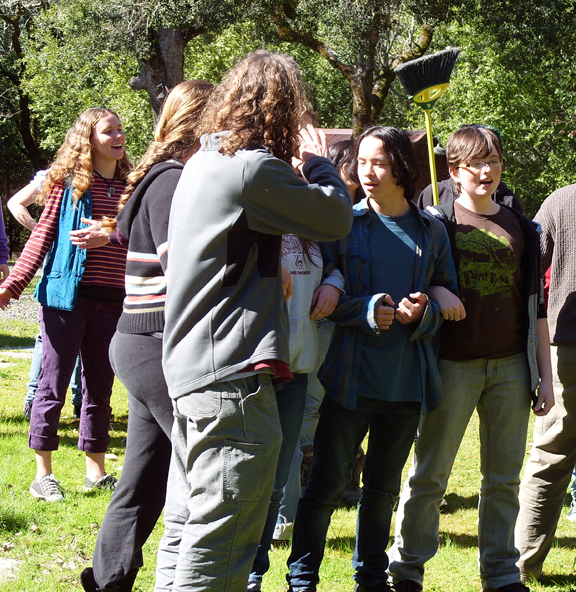 More teens advance toward rhe fortress.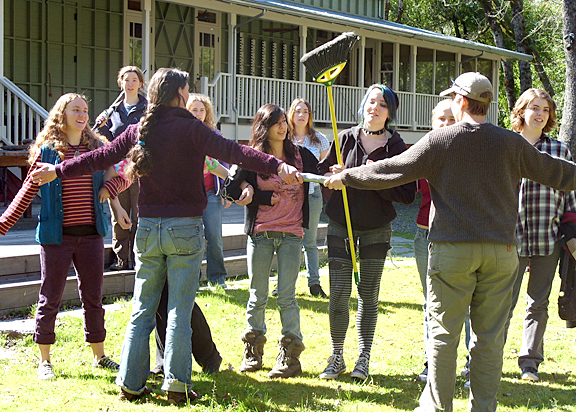 The Broomsticks are met by a fearsome cordon of heavily-armed riot police.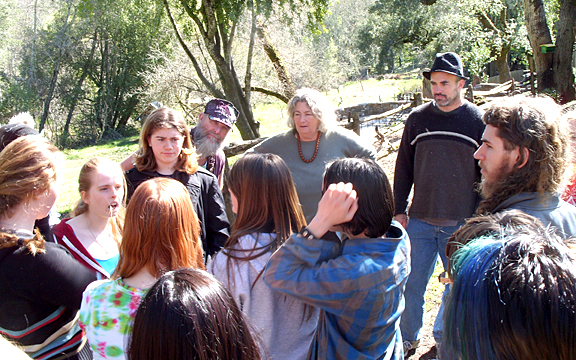 Teens debate their next move during the action role play.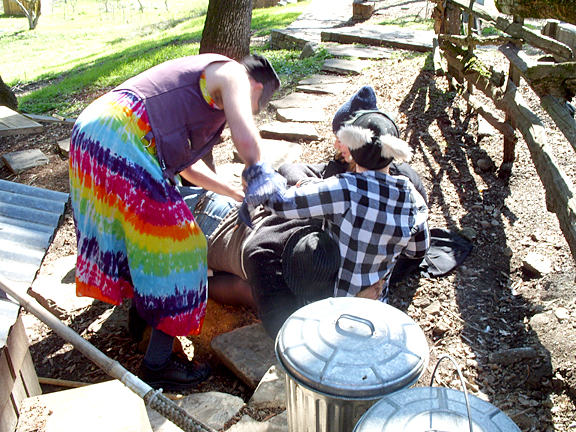 Police arrest a protester who broke through the lines.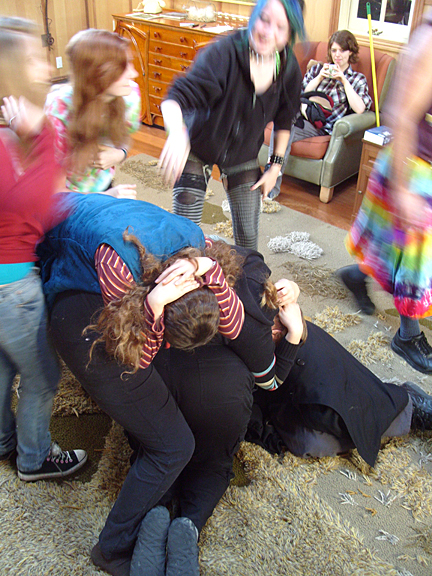 Protesters pile on and protect someone who was being attacked by police.
---
Teen Earth Magic
Click here for more information on Teen Earth Magic, held the second week of June in Nevada City, CA.
---
Luke Hauser
(aka George Franklin) is a freelance parajournalist in the service of the Goddess and planetary revolution. His photo-filled book Direct Action is an historical novel about Bay Area protests.
Photos ©2009 by RQ. Please do not copy, reproduce, fold, spindle, mutilate, or otherwise use them without written permission. Thanks!
---