San Leandro/Oakland CA - Friday 29 November 2013
Walmart Workers Protest for Living Wage
Led by Walmart employees, several hundred people gathered outside the Walmart in San Leandro/Oakland, California to protest "Black Friday" sales. Hundreds more gathered at other Walmarts across the U.S.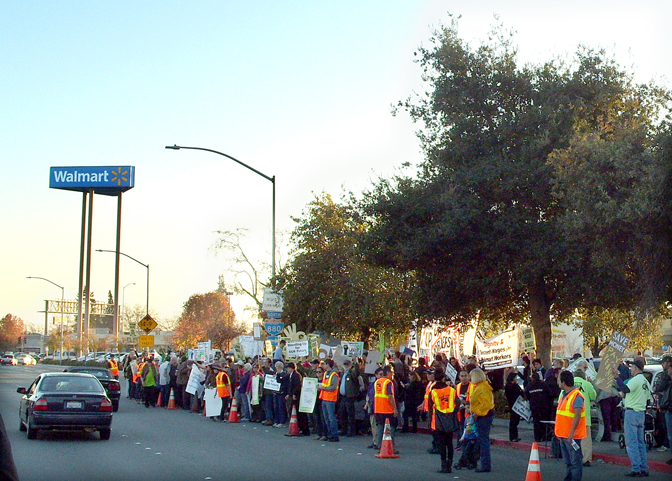 The San Leandro protesters got a generally friendly reception from cars driving past. The Brass Liberation Orchestra and a couple of folk-rock bands enlivened the crowd, which chanted and sang for a couple of hours Friday afternoon.
A workers' coalition called Our Walmart organized the "Black Friday" protests at Walmart stores across the U.S.
Walmart employees, known as "associates," are paid as little as $12,000/year for full-time work. In many locales, full-time Walmart employees qualify for public assistance programs.
Workers at nine Walmart stores across the US have gone on strike in the past month, calling for more full-time positions, better wages, and an end to retaliation against workers who attempt to organize.
Specifically, Our Walmart demands that all employees be paid a minimum for $25,000 a year for full-time work.
The bottom line - Walmart made a profit of $17 billion last year. The Walton family, which owns more than half of the company, are worth more than $144bn. Yet two-thirds of its million-plus workforce is paid less than $25,000 per year.
Meanwhile, across the Atlantic, Walmart-owned British supermarket chain Asda hosted Black Friday deals - even though Thanksgiving is not celebrated in the UK. In the best US tradition, fights were reported at several sites, and one person described the scene as "bedlam, chaos."
For more information, contact Our Walmart.
For updates on Bay Area activism, join the Bay Area Reclaiming elist (BARD) - email RQ for info.
Thanks to UK Guardian for statistics.
---
Walmart - San Leandro/Oakland CA - Friday 29 November 2013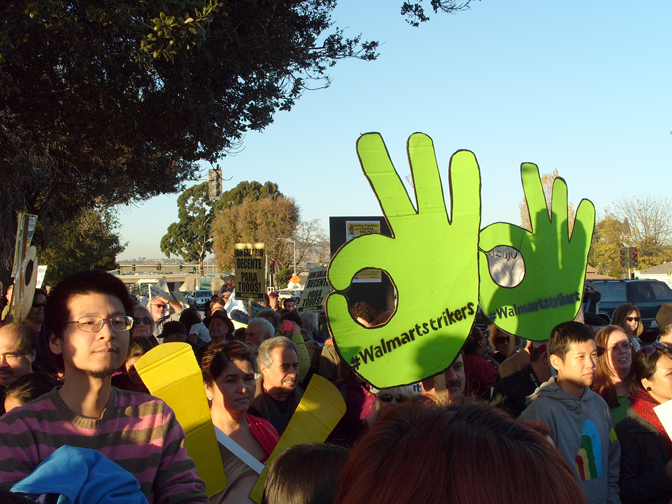 Green hands symbolize the Our Walmart movement.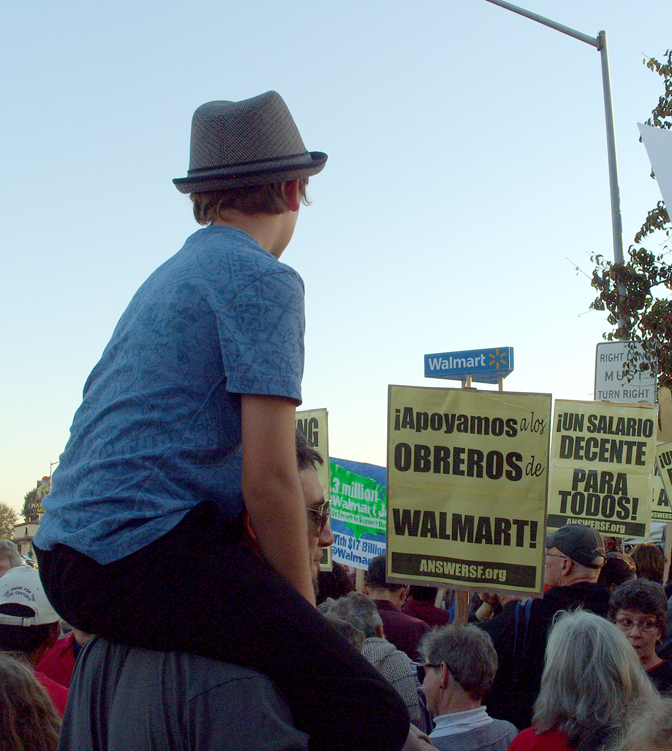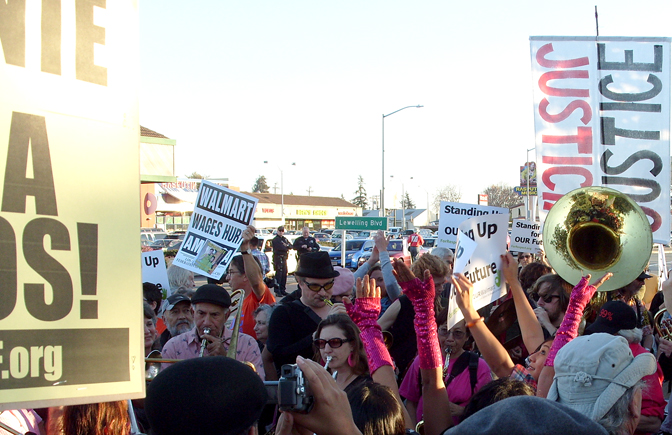 The Brass Liberation Orchestra, mainstays of Bay Area activism, set the crowd dancing.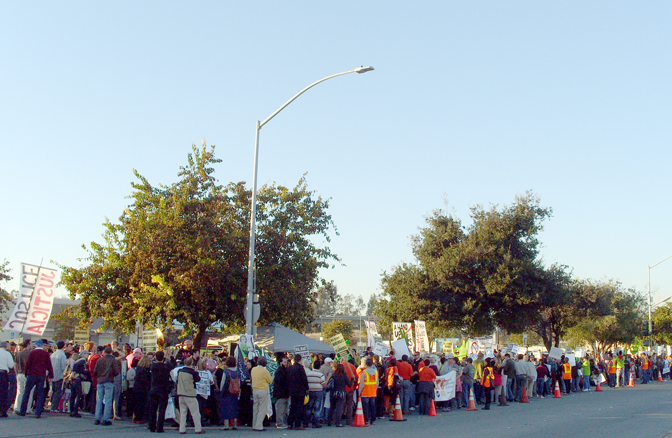 Most of the crowd clustered around the main entrance to the store. . .

. . . while other people held signs along the full length of Hesperian Blvd.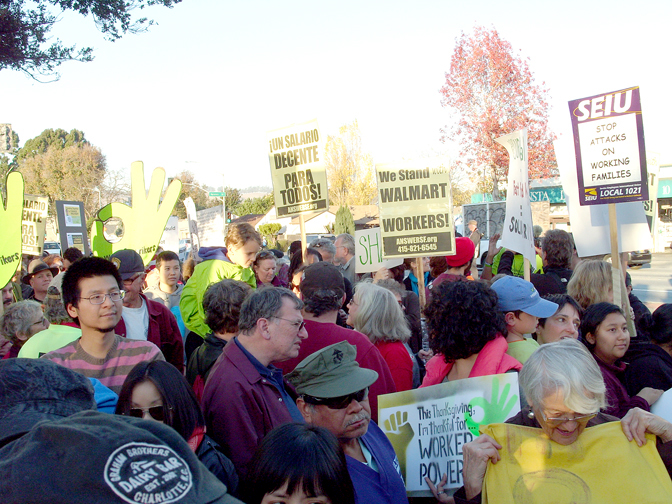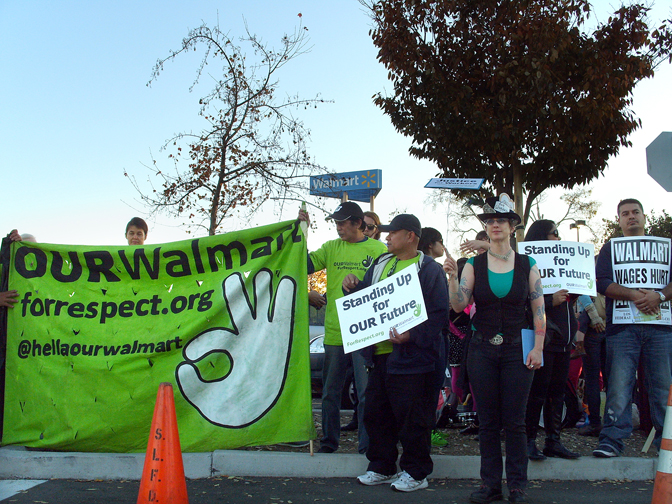 The event was organized by Our Walmart.
---
Please donate to RQ!
---
Luke Hauser
(aka George Franklin) is a freelance parajournalist in the service of the Goddess and planetary revolution. His photo-filled book Direct Action is an historical novel about Bay Area protests.
Photos ©2013 by RQ. Please do not copy, reproduce, fold, spindle, mutilate, or otherwise use them without written permission (which we are usually glad to grant). Thanks!
---