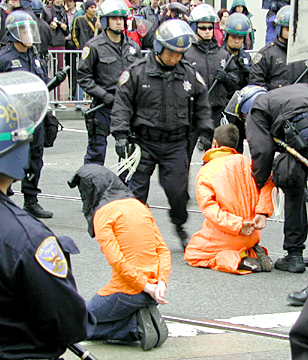 Act Against Torture
---
Guantanamo protest action decries torture
Act Against Torture
Page 2 of photos by Luke Hauser begin below
On Monday, March 20, Act Against Torture organized a "visual takeover" of a central San Francisco intersection, outside U.S. Senator Diane Feinstein's local office.
One of the most striking parts of the action was a civil disobedience theater piece re-enacting conditions at Guantanamo prison camp. This page follows that action in detail.
For more information, visit www.ActAgainstTorture.org.
Or email ActAgainstTorture@riseup.net
---
Guantanamo Protest Action in San Francisco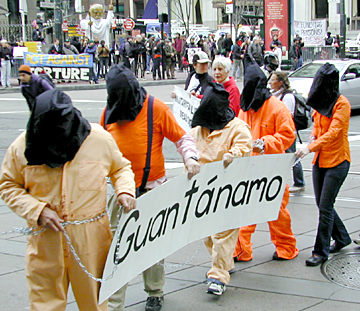 At the beginning of the protest, the orange-clad Guantanamo prisoners were apraded across intersections in front of downtown traffic.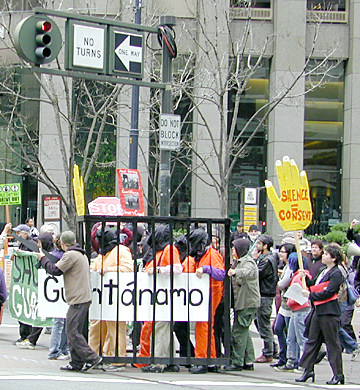 Then the prisoners were herded into a small cage, which was transported into the middle of Market Street, setting off a civil disobedience blockade aimed at awakening people to the torture occurring at Guantanamo.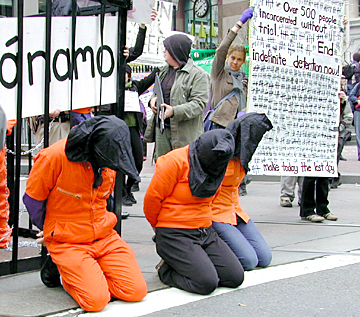 A related issue is the indefinite detention of prisoners without charges or trial, in contradiction to two hundred years of American legal practice.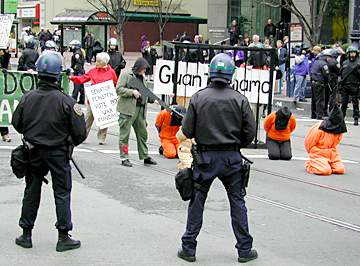 Once the street was blocked, San Francisco police moved in, providing this chilling spectacle.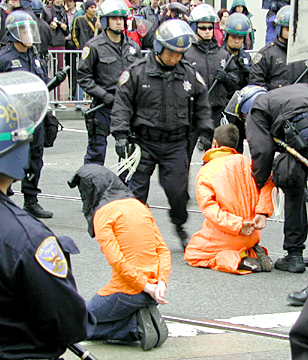 The first thing arresting officers did was yank the hoods off the prisoners.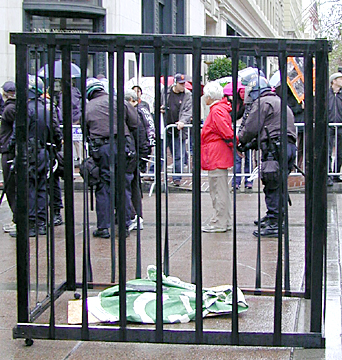 About a dozen protesters were arrested.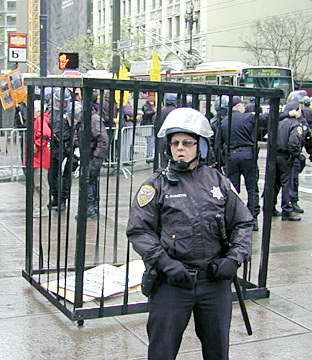 Police continued to guard the cage for a while after the action was over.
Return to the first page
---
Luke Hauser
is a freelance parajournalist in the service of the Goddess and planetary revolution. His photo-filled book Direct Action is an historical novel about Bay Area protests.
Photos ©2006 by RQ. Please do not copy, reproduce, fold, spindle, mutilate, or otherwise use them without written permission. Thanks!
---