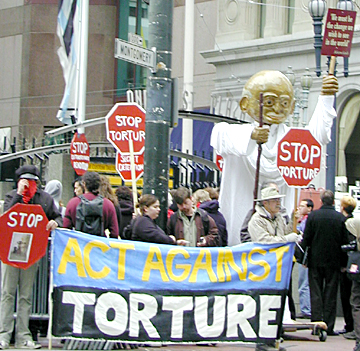 Act Against Torture
---
Facts about U.S. torture and Guantanamo prison
The facts speak for themselves. Torture is an integral strategy of the US government's so-called "war on terror."
Around 500 people from 35 countries continue to be held as of January 2006, four years after the Bush Administration began locking people up at Guantanamo.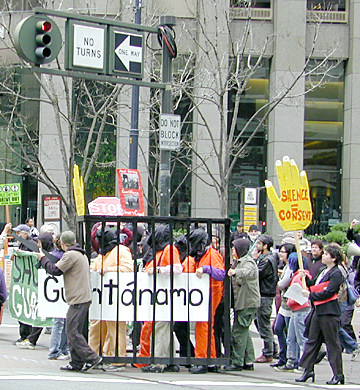 Detainees remain in a legal black hole, with no access to court, counsel, or family.
Mounting evidence points to systematic torture of prisoners at Guantanamo. The evidence comes both from former prisoners and from FBI agents and former military personnel who were assigned to Guantanamo.
There are six acknowledged detention facilities worldwide: three in Iraq, two in Afghanistan, plus Guantanamo Bay. Another nine "secret" facilities are believed to have been used since 2001.
Nearly 13,000 people are currently in US detention in these six prisons.
Internationally, over 140 detainees have died while in US custody since 2001. At least 27 detainees died in US custody due to suspected or confirmed homicides. At least seven people were tortured to death.
Over 100 individuals have reported by "rendered" from US custody to a foreign country known to practice torture, including Egypt, Saudi Arabia, Jordan, and Pakistan.

Contact Act Against Torture
For more information, visit www.ActAgainstTorture.org.

Or email ActAgainstTorture@riseup.net
Return to first page
---
Luke Hauser
is a freelance parajournalist in the service of the Goddess and planetary revolution. His photo-filled book Direct Action is an historical novel about Bay Area protests.
Photos ©2006 by RQ. Please do not copy, reproduce, fold, spindle, mutilate, or otherwise use them without written permission. Thanks!
---