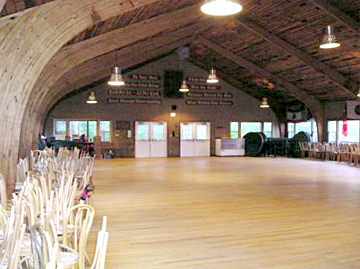 Dandelion Features at RQ.org
---
This article was written prior to the gathering
Dandelion Gathering 2006
Becket, Massachusetts - May 17 -21, 2006
Stirring the Dandelion Cauldron
By Angela Magara / photos by April
Are you coming to Dandelion? Are you coming to the beautiful Berkshire Mountains in the lusty month of May? Do you have some really clear idea of what you would like to see happen, of what would make you happy, of how the time should be shaped? Do you want to contribute and receive, to see and be seen, to be surprised and satisfied? Yes, yes, yes.
If you too are panting out a "yes," then the time is ripe for you to join one of the elists where the planning, arrangements, offerings, and organization is happening.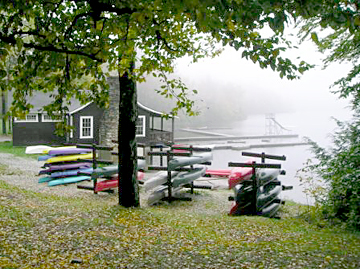 The Dandelion Gathering site, Becket, Massachusetts
Got a workshop you want to offer, a skill you want to share? Want to plan rituals? Join the Fire list.
Are you a healer-individual or global? Try joining others on the Water list.
Do you have permaculture ideas and tips to share or do you want to be sure that you learn some? Then Earth list is for you.
Are you interested in the children's opportunities or want to offer support for parents? Join the Children list to be part of that creating.
Do you have ideas on how to communicate all that is happening or just want to be sure that this is done well so you don't miss anything? Join the Air list.
Do you want to be part of creating a Gathering altar or a hearth for story telling? Stir all those impulses into the Center cauldron.
All these impulses for creating a community can be swirled together with all the other people being drawn to work on creating Dandelion Two - the Gathering of the Tribes. Let our energies be joined for the pleasure and good of all.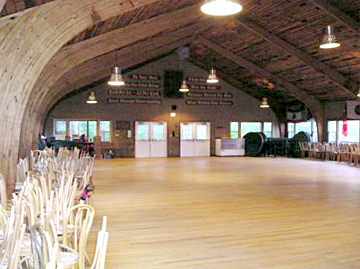 Becket-Chimney Corners YMCA in Massachusetts, site of the 2006 Dandelion Gathering
So, check out the elists below, join riseup if you haven't already and then join one or more of the lists to create this Gathering. I'm excited to join you, to do magic with you, to hear what you have to say and to be heard. See you online and in the spring, when the first flowers are opening and the sap is rising, in Becket, Massachusetts.
To join an organizing elist
1. GO to lists.riseup.net
2. LOGIN if you already have an account. If not, create a new list account with your email address and a password.
3. CLICK on Spirituality and Politics
4. SELECT from the alphabetically-arranged list the group you want to create with by clicking on the name.
5. SUBSCRIBE to the list and get ready to co-create Dandelion Two!
More Details about the Email Lists
Here are the lists and their visions at the outset. Each list will have a hostess from the Organizing group to help with communication or logistical questions or needs that might arise. Blessed be.
Dandelion2.air
AIR: Who is called to communications, publicity, advance information, on-site communication (heralds, walkie-talkies), meeting facilitators, etc.? We are waiting to hear from you. Speak to what your wild heart envisions.
Dandelion2center
CENTER: At the center lies our beliefs, our loves, our pledges, our activism - personal and global. At the center lies our stories; both of success and failure. We call to those who are willing to build an altar together to that center. We call to those who will work to make a center which will be the heart beat of the gathering and beyond. Welcome to the center, place of creation.
Dandelion2children
CHILDREN: The future lies within the children of today. We call to those who are inspired to do programming for kids and teens, children's areas, special activities, mother support. Create space and delight for our precious and precocious youths. Serve the future of our movement and the delight of our communities.
Dandelion2.earth
EARTH/PERMACULTURE: Help teach/learn sustainable living techniques on our dear planet Earth. We welcome all planners, workers, engineers and extra hands. All those who walk with the other beings on this planet and hear their voices. Let wild dreams of transformation and healing arise.
Dandelion2.fire
FIRE: We all have many gifts to be given. Who is called to give the generous gifts of creative programming; rituals, workshops, offerings, meetings, social activities, discussion tables, etc.? Spark what your bright spirit desires.
Dandelion2.water
WATER: May all the waters run pure and free. Support people and resources for the well-being of all who attend. We seek mediators, guardians, healers of all kinds, medical personnel, counselors. We encourage those who work for healing of the waters of the world and for the health of each of us. Bring forth what your deep mind dreams.
---
How You Can Get Involved
Come to the Dandelion Gathering. Anyone associated with Reclaiming is welcome to attend the gathering.
Visit www.dandeliongathering.org for registration details or for more information.
Join an organizing elist. Meet other Reclaiming folks and help pull together one of the many aspects of this gathering. We have tasks for every talent. This is a great way to feel plugged-in even before Dandelion.
Donate to the Dandelion Gathering. Contact Beth at jazzli@crocker.com.
---
Photos by April/RQ. Please do not copy, reproduce, fold, spindle, mutilate, or otherwise use them without contacting April via RQ. Thanks!