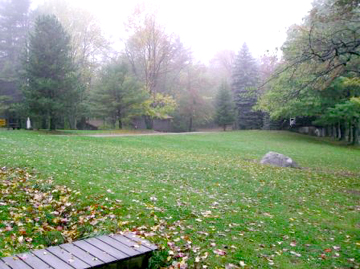 Dandelion Features at RQ.org
---
This article was written prior to the gathering
Dandelion Gathering 2006
Becket, Massachusetts - May 17 -21, 2006
What Could BIRCH Be?
Questions to Begin a Discussion by Donald Engstrom-Reese
Photos by April
Over the last five years or so, the worldwide Reclaiming communities have begun a more expansive conversation of who and what Reclaiming is and where we are going.
After hearing of this need, the Spokes/Witch Camp Council thought it would be a good idea to help co-create a broader Reclaiming council hub. The intention of forming this hub would be to provide a venue where the many voices of Reclaiming could be heard. The Spokes/WCC envisioned that these voices would include Reclaiming organizers, magical activists, crafters, healers, gardeners, teachers and all other folks who embrace the Principles of Unity. This desire to decentralize the Witchcamp Spokes Council grew into the coming birth of the Broader Intra-Reclaiming Council Hub (BIRCH) at the up coming Dandelion 2006.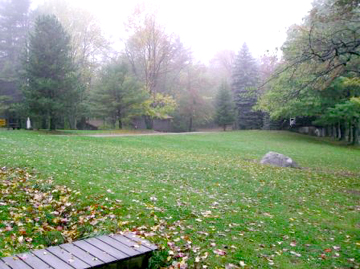 The Dandelion Gathering site, Becket, Massachusetts
Using the metaphor of a tree, which is comprised of many branches, leaves, roots, flowers and fruits, it is envisioned that this body will be a way to connect each part to the whole, while holding the unique individuality of these parts. Personally, while meditating on the life of a tree, I also think it is a good thing to remember the primordial magical knowledge deep in our bones and blood, that the whole is greater than the sum of it's parts. Are we any different?
What will BIRCH look like? Well, what do we want it to look like? It is up to the folks of Reclaiming to co-create this hub. It is up to the various communities, covens, guilds, groups, individuals, families, collectives, etc., to come to the 2006 Dandelion for the formative meeting of this new body.
It has been suggested that representatives come from groups of at least five people. But at this beginning meeting, no one will be turned away because they are not a part of a group. The place of solitaires has not been addressed.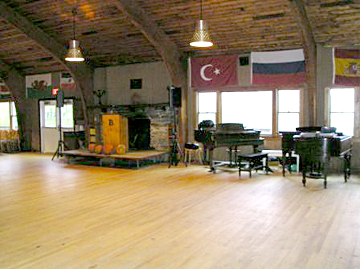 Becket-Chimney Corners YMCA in Massachusetts, site of the 2006 Dandelion Gathering
We do know, though, that it will be the people who come to this first BIRCH who will be co-creating their own guidelines for this new hub. It is essential for everyone to bring their creative ideas, skills, and energy along with their open hearts and minds in order for us to weave together our Witchy strands, strengthening and renewing the Reclaiming web.
The following questions are intended to help begin this envisioning discussion within our own hearts and between each other before the coming Dandelion gathering and the birth of BIRCH.
Questions Regarding BIRCH
What is the Reclaiming Witchcraft Tradition?
Who is Reclaiming?
What are our roots?
What are our common values?
Currently, the Witch Camp Council, the individual Reclaiming Witch camps, other groups, local and otherwise, plus many individuals identifying as Reclaiming, hold that the Principals of Unity is the one document that anyone claiming to be a part of Reclaiming must agree to embrace.
Do the Principals of Unity adequately serve the function of gatekeeper for people associating with Reclaiming?
What is your understanding of Spirit, Feminism, and Anarchism?
What do you see as Reclaiming's relationship to Spirit, Feminism, and Anarchism?
What drew you to Reclaiming?
What keeps you involved with Reclaiming?
How important to you is an initiation into the Reclaiming Tradition?
In your opinion, what is a Reclaiming community?
What do you understand to be the criteria to be a Reclaiming community?
What constitutes magical activism?
How important do you see magical activism to the Reclaiming Tradition?
Do you see Reclaiming primarily as a teaching tradition?
Do you see Reclaiming as having multiple foci; teaching, celebration, magical activism, land restoration etc.?
In your opinion, what is a Reclaiming teacher?
What do you understand to be the criteria for naming oneself a teacher in the Reclaiming Tradition?
In your opinion, what is an elder?
How does one become an elder?
Does the Reclaiming Tradition have elders?
Who are the folks that you think of as elders in Reclaiming, locally and internationally? Why?
In your opinion, is Witch camp central to the Reclaiming Tradition; why or why not?
How important to you is the Reclaiming Witch Camp experience?
What are your visions for the future of the Reclaiming Tradition?
What is Reclaiming's role in helping to co-create the emerging sustainable cultures of beauty, balance and delight?
---
How You Can Get Involved
Come to the Dandelion Gathering. Anyone associated with Reclaiming is welcome to attend the gathering.
Visit www.dandeliongathering.org for registration details or for more information.
Join an organizing elist. Meet other Reclaiming folks and help pull together one of the many aspects of this gathering. We have tasks for every talent. This is a great way to feel plugged-in even before Dandelion.
Donate to the Dandelion Gathering. Contact Beth at jazzli@crocker.com.
---
Photos by April/RQ. Please do not copy, reproduce, fold, spindle, mutilate, or otherwise use them without contacting April via RQ. Thanks!