Our new all-devices website!
Visit RQ at our new wix-based, all-devices website. Same great RQ content, now viewable on phones, tablets, etc.
This site (ReclaimingQuarterly.org) is still fully functional, but is no longer being updated.
Visit us at WeaveAndSpin.org!
---

playlists, streaming and downloads
Links to free listening
at youtube, google, spotify, and more!
---
Favorite RQ Features
Older Features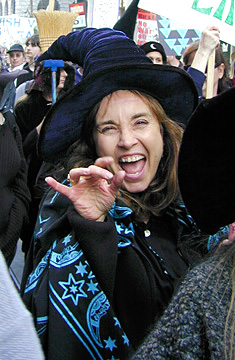 ---
Peace Protest Features
What's happening in your city or region? Send photos and reports to quarterly@reclaiming.org

---
San Francisco, March 2007
Two Days of Witness and Protest
On March 18-19, 2007, thousands of people took part in a peace march, a spiritual witness, and a nonviolent direct action protesting the United States' ongoing war in Iraq.
The Monday direct action was anchored largely by faith-based activists, including many people from Reclaiming.
The march on Sunday drew about 10,000 people, a modest size for San Francisco. On this page and the "Signs of Protest" page are photos from the march.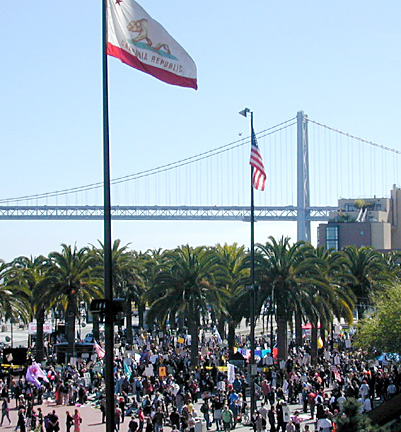 The crowd gathers at Embarcadero Plaza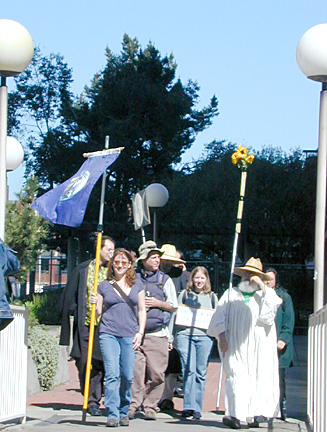 Reclaiming activists held a pre-march ritual, then processed to join the march. Here, a group carries the Sun, Moon, and Earth standards that were blessed at the previous day's Spring Equinox ritual.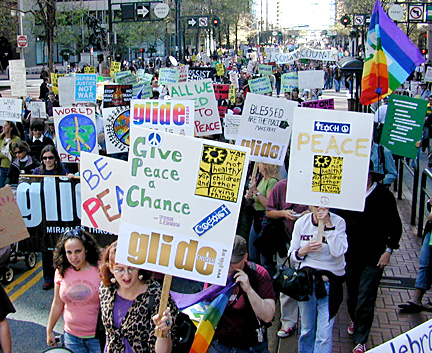 The 10,000 marchers proceed up Market Street, commercial artery of San Francisco.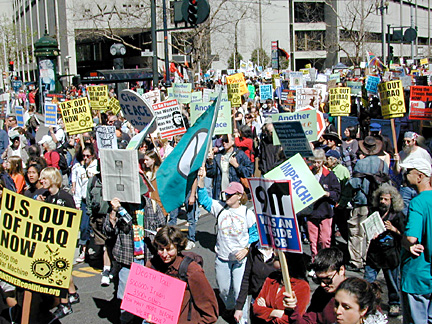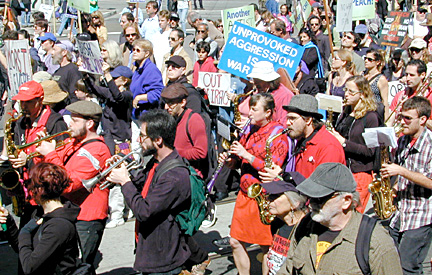 The Brass Liberation Orchestra and other marching bands and drum corps enlivened the march.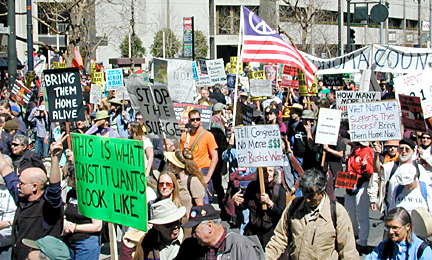 An ocean of handmade and mass-printed signs floated above the march.
For more signs and props for the march, click here.
---
Luke Hauser
(aka George Franklin) is a freelance parajournalist in the service of the Goddess and planetary revolution. His photo-filled book Direct Action is an historical novel about Bay Area protests.
Photos ©2007 by RQ. Please do not copy, reproduce, fold, spindle, mutilate, or otherwise use them without written permission. Thanks!
---