Our new all-devices website!
Visit RQ at our new wix-based, all-devices website. Same great RQ content, now viewable on phones, tablets, etc.
This site (ReclaimingQuarterly.org) is still fully functional, but is no longer being updated.
Visit us at WeaveAndSpin.org!
---

playlists, streaming and downloads
Links to free listening
at youtube, google, spotify, and more!
---
Favorite RQ Features
Older Features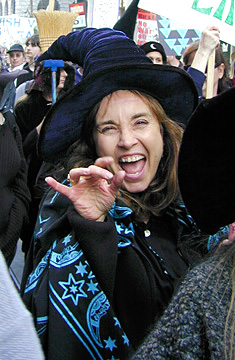 ---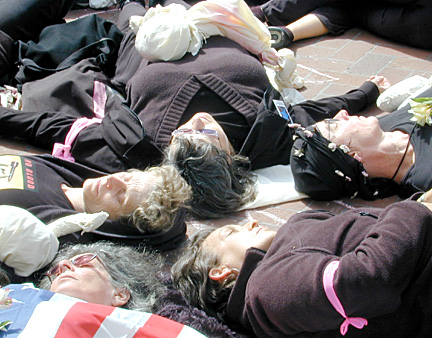 Peace Protest Features
What's happening in your city or region? Send photos and reports to quarterly@reclaiming.org

---
San Francisco, March 2007
Direct Action Challenges US War on Iraq
Faith-based activists anchor nonviolent protest
On March 18-19, 2007, thousands of people took part in a peace march, a spiritual witness, and a nonviolent direct action protesting the United States' ongoing war in Iraq.
The street-witness and civil disobedience on Monday drew about 300 protesters and hundreds of onlookers. About 50 people were arrested in a civil disobedience protest, including many Reclaiming and other faith-based activists.
Among the groups taking part in the Monday action were Act Against Torture, Code Pink, Courage to Resist, Declaration of Peace, QUIT, San Francisco Women in Black (510-434-1304), The Occupation Project, United for Peace and Justice, and Reclaiming, as well as independent faith-based and anarchist activists.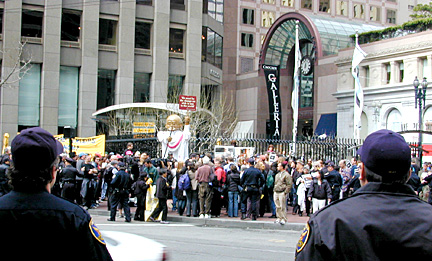 The crowd gathers at Montgomery and Market, heart of the business district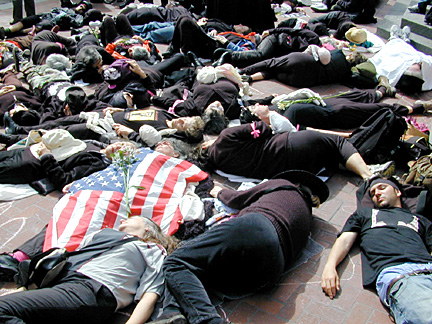 To begin the direct action, dozens of costumed protesters dropped to the sidewalk in a symbolic dying.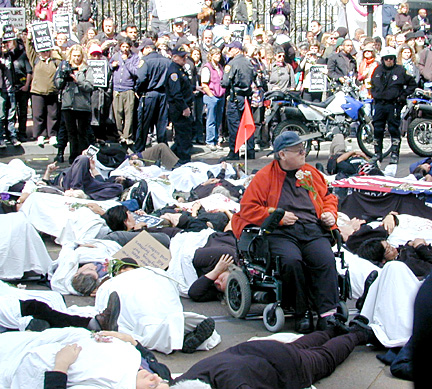 The action soon moved into the street, with fifty people blocking Market Street and bringing "business as usual" to a halt.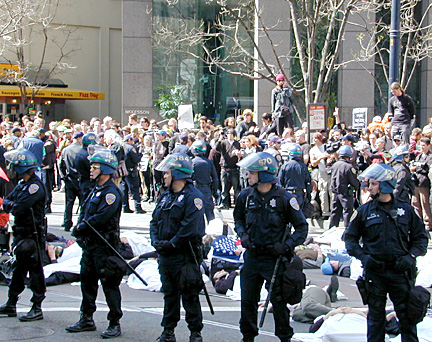 Police surrounded the blockaders and began arrests.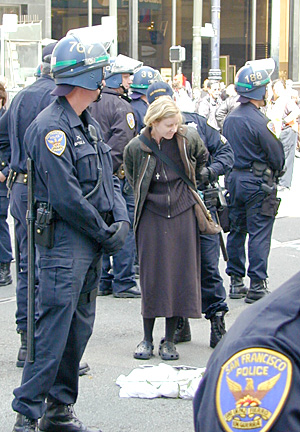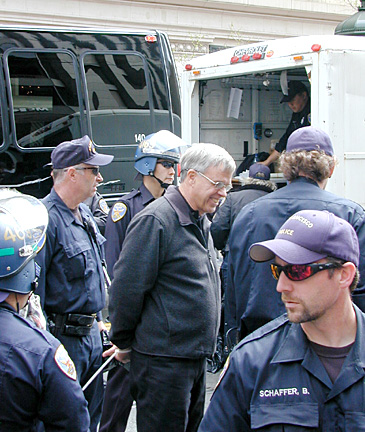 The 50-plus arrestees were processed and released within hours, with court dates later in the Spring.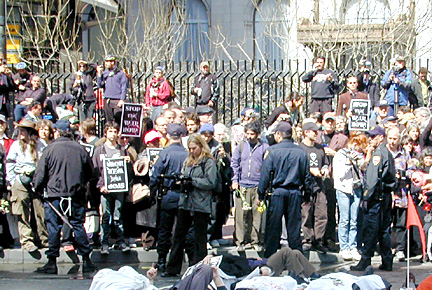 Following the arrests, the rest of the crowd marched up Market to Powell Street (tourist and shopping district), where several more protesters were arrested blocking the street.
---
Luke Hauser
(aka George Franklin) is a freelance parajournalist in the service of the Goddess and planetary revolution. His photo-filled book Direct Action is an historical novel about Bay Area protests.
Photos ©2007 by RQ. Please do not copy, reproduce, fold, spindle, mutilate, or otherwise use them without written permission. Thanks!
---