FWC Summer 2006: Oregon, August 13-21 / East Coast TBA
Witchcamp.org - info on all Witchcamps | RQ's Witchcamp Home Page

---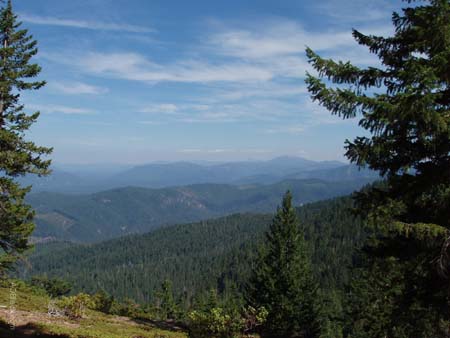 Free Witchcamp Features
---
Young People at Free Witchcamp
Teens and kids play key roles in first-ever free camp
150 people gathered in the wilderness of Central Oregon for the first Free Witchcamp - an experiment in creating community while organizing the most basic necessities of life, including water, food, and shelter.
Free Witchcamp was an all-ages gathering - one of the first Witchcamps to experiment with including kids as full participants in camp (teens have been part of some Witchcamps, such as Texas and California). Teens took part in adult paths. Younger kids and some parents were part of "Pixie Path."
At the bottom of this page is the Statement of Intention for Children at Free Witchcamp that helped to create a container that could easily include children at Witchcamp.
This page incudes reflections by organizers and teachers on having young people at Free Witchcamp.
If you took part in Free Witchcamp, you can add your voice to this dialog - email us at quarterly@reclaiming.org.
For info on future Free Witchcamps and other Witchcamps in North America and Europe, visit Witchcamp.org
---
Lucy - teacher and organizer of Pixie Path
Some notes on the Pixie Path
Inviting children to FWC and keeping the focus on the needs of activists and campers primarily, caused much discussion and dilemma. In the end a Pixie Path For All Ages was created to accommodate the needs of children and parents and the community.
The path was open to children and their caretakers, and to those interested in offering service to the community by being care takers or who have a delight in being around children. The path focused on the needs and magical training of the children in the community, but also accommodated path work for the adults that participated in the path.
Thus by being care-takers no one was excluded from the work and intent of witchcamp. The path was a lot about childhood and fun and delight in the experiences and needs of childhood. The adults on the path were also provided an opportunity to do the deep work of witchcamp, essentially by being models and teachers themselves. The adult to child ratios were for the most part one to one.
It was wonderful for everyone. The pixie path participants participated in affinity groups, were responsible for ritual contributions, and added to the wholeness of the camp community. They were not excluded from any of the witchcamp environment, yet they were taught to be respectful of the needs of the larger community. It worked well. Children were a wholesome and happy addition to Free Witchcamp.
Below is the Statement of Intention for Children at Free Witchcamp that helped to create a container that could easily include children at witchcamp.
---
George - Pixie Path co-teacher
Kids at Witchcamp
Here's some thoughts I wrote up after camp, concerning the involvement of kids at camp. Most Witchcamps have not allowed people under 16 in the past, for a variety of reasons. I think our FWC experiment helped pave the way for including all ages at more camps.
I'd be glad to hear from others -- especially teens and parents who took part in FWC. Email me care of RQ, or at george@groundworknews.org.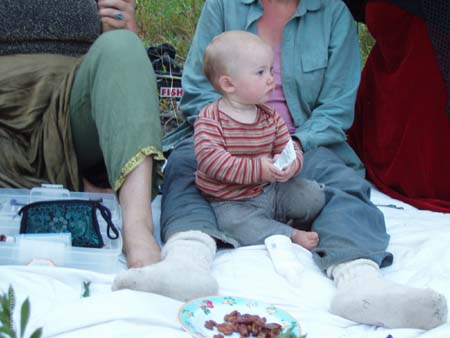 Intro
The bottom line is, I can't picture Free Witchcamp without the kids.
When I remember the "hearth" -- the central gathering space next to the cooking area -- the image always includes kids running or crawling around. Take away the young people, and the spirit of the camp evaporates.
Yet they didn't dominate the camp. This was as much a Witchcamp as any I have attended. The work was just as deep, and pushed me harder than I've been pushed in a while.
The experiences at Free Witchcamp showed the richness that young people can bring to Witchcamp, and may influence other camps to consider including kids.
Background
The past few years, I have co-taught the Older Kids (Teens) Path at California's "Witchlets in the Woods" family camp. This August, I co-taught the Pixie Path with Lucy at Free Witchcamp in Oregon.
Free Witchcamp is an adult Witchcamp which welcomed kids. About 15-20 kids attended the 120-person camp.
Weeklong Witchcamps have been adults-only by design. The rationale has been that adults will do deeper healing and magical work if only adults are present, that issues like sexual healing can't be addressed as well in a mixed-age setting, and that kids can disrupt the quieter reflective moments of rituals.
The Free Witchcamp experiment showed that many of the concerns were unfounded, and those that remain can probably be addressed. The minor problems were more than offset by the beauty and spirit that the young people brought to the entire camp.
A big reason integrating kids into camp worked so well was that organizers set an intention early to include young people as full participants. With organizers seeing them as fully part of camp, a tone was set that the rest of camp accommodated. (See Statement of Intention for Children at Free Witchcamp, below.)
My Goals
That young people have time and support to bond with each other - that they can build their own connections, in addition to connections with families and teachers.
Creating a safe space for diversity and personal differences to emerge. Building group trust despite differences and even conflicts.
Teaching magic, ecology, and other themes via games, hikes, music, and other "kinetic" activities.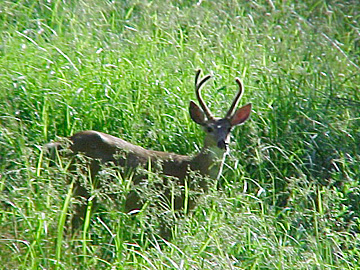 Photo by Willow of Pixie Path: "This deer kept coming up to us, so I had to take his picture."
Youth Paths
Lucy proposed a "Pixie Path" for kids and parents. We had six kids age 6-10. Also a couple of infants, one of whom accompanied us all week in a back-pack. Path had two teachers. Two parents and one other adult took part all week, and a couple of other parents dropped in. Having extra adults was a big help.
We did games, magic, hiking, swimming, and group-building work, plus taking roles in all-camp rituals. Each day focused on an element, and was complete in itself.
We mainly let the kids take the lead in the day's activities. If they wanted to hike around the lake, we adapted our games and activities to that itinerary. Swimming was a central feature, no matter which element we were working on. Each day we did a simple grounding-casting-invocation, a name-game, and some short group-building activity. An elemental scavenger hunt occupied much of "Earth" day, and the final day involved creating the talent-show skit.
Visiting adult paths - we went to part of the Healing Path one day, which arranged their day to include the kids. To me, it didn't seem to work - the kids didn't really integrate into the class, and looked pretty tuned-out after five minutes. I'm not sure how we could do this differently. Maybe if the adults planned a "game" which would challenge adult skills while providing a fun, energetic experience for the kids. (The kids loved the wolf-game during Thursday's ritual!)
Adults in Pixie Path requested more content -- we need more activities which could be done by kids, but carried further by adults.
Pixies in broader camp-context
Pixie Path did a couple of invocations at all-camp rituals, which I think everyone in the ritual enjoyed. The 6-10-year-olds brought a lot of spark to the invocations. And having a few parents involved made a big difference in coherence. (Kids' roles were usually chosen based on what costume they wanted to wear. Having more costumes and accessories would be good.)
Talent show skit was fun, and gave the Friday Pixies' class a focus -- each kid chose a costume and then a tarot card to suggest their character's motivation. Todd, one of the adults in the path, then wrote a script based on the various characters and motivations.
Pixies at Rituals
Pixies doing invocations worked well, a good challenge to both kids and adults in path, and a lot of fun for the whole camp.
Some parts of rituals clearly don't work for younger kids - grounding, casting, meditations of any sort. Other parts sometimes do engage kids' interest - songs, dancing, colorful invocations or casting, theater, games...
Kids' "Bubble" - during one grounding, Lucy suggested we do a separate kid's circle, a "bubble" off the main circle. The circle had a surreptitious quality, so it was easy to get kids to whisper. We did our own simple grounding and circle-casting, and then played "Electricity" (sending hand-squeeze pulses around circle) while the adults finished grounding and casting. When the invocations started, we merged back into the circle.
A similar "bubble" would make sense during a meditation in some rituals - a kids/parents space where people could do art, hear a story, etc. The bubble would merge back into the larger circle when singing or dancing starts.
Suggestion from Starhawk for a separate "art space" during entire ritual, where kids or anyone else could go and do art. Maybe the art the kids make could figure into the ritual somehow
Kids and Disruption
During some quieter parts of rituals, a few younger kids made noise, ran around, etc. Some people said, "It's hard to ground and focus with kids running around." Sinnergy answered: "It's good practice for when you need to ground in the street, surrounded by riot police." Or when you're in a noisy office, a crowded train, etc.
Alternately, we could organize a kids' area with art supplies, stories, etc. A group-game might focus kids' energy during the grounding, meditation. The area could be available throughout ritual, and have a special activity during the meditation.
Teens
FWC had 4 teens most of the week. All four decided to take Elements with the adults. This seemed to work well - the teens and Elements teachers Sinnergy and Diane can comment more on this.
The teens wound up in in different affinity grups (support groups), which seemed mixed - suggestion from Diane that teens be encouraged to form their own AG at future camps.
Having a couple of young adults acting as liaisons with the teens would help weave teens into the wider camp - these young adults would act as allies, staying in touch with the teens while not acting as "leaders" or teachers to the group.
It would be good to hear from the teens about their experiences.
Conclusion
That's my initial thoughts. Given how easily kids integrated into FWC, it's interesting that the issue has been so controversial in Reclaiming. The question for me is not whether to include kids, but how to do it gracefully and in a way that answers everyone's needs and concerns.
I'd like to hear from teens who attended FWC or Witchlets, or parents from FWC. What worked? What needs changing?
Contact me via RQ, or email me at george@groundworknews.org.
---
Diane - teacher
Children at Witchcamp
Thought that I would drop a note while I remember our discussion on children at camp. As best I recall our discussion included the ideas that children did not provide much of a disruption at all to the camp. Including the teens in the adult Elements path worked very well for the adults and for the teens. The teens seemed to really blossom from participating with the adults in class and from receiving positive feedback from adults as to their abilities and participation. We did not have to change the material content of the class for the teens. We did include some games, which really worked well for the adults and the teens, and which I will probably want to include in adult Elements classes now also.
They gave me feedback that being with adults in an affinity group did not work for them, so a separate affinity grouping for teens might work better.
Truly, my feedback to teachers and organizers is that children really add to the camp experience and there are no real reasons that I can point to to keep the witchcamps adults only.
PS - I feel that way about dogs too, I loved having the dogs at camp!
---
Sinnerjee - teacher
Children at Free Witchcamp
Children are becoming a welcome addition to our Witch Camp communities, and there are considerations which can help to make this inclusion as smooth as possible.
At times, children's behavior at group rituals or paths may be viewed by some people as disruptive. Parents or designated caregivers are primarily responsible for addressing their kids' perceived disruptive behaviors. It also helps to have teachers on the team designated to respond to perceived disruptive behaviors in a compassionate and timely manner.
Following episodes of perceived disruptive behaviors, some people may feel a need to vent their frustration. It can be beneficial to have members of the teaching team available to listen to complaints, concerns and suggestions. Helping people to feel empowered to talk about their frustrations openly and immediately may likely reduce instances of shadow behaviors such as gossiping, suppressed frustration and untimely outbursts later on in the week.
Keep in mind that if one is considering participation in direct action and other types of street activism, it is incredibly beneficial to learn how to remain grounded and centered in situations which are noisy and chaotic. In light of this, some children may be viewed as among our best teachers.
Teens
Mature teens can bring much positive energy into adult paths that are deemed appropriate for teens. Additionally, teens can also benefit from one-on-one mentorship with members of the teaching team. These instances are best held in open, public spaces where the teen and mentor are within sight of the larger community. Mentors can model age-appropriate interactions and can encourage teens to have strong, clear boundaries. Mentors can also support teens in empowering themselves to say no if invited alone to a private space by an adult.
---
Statement of Intention for Children at Free Witchcamp
Drafted by Lucy
We affirm that parents are ultimately 100% responsible for their young ones, and the camp organizers and teachers are committed to supporting parents in this as we learn more about being a whole community which includes people of all ages.
Children are welcomed and valued at this witchcamp, just as adults are welcomed and valued. Our teachers and organizers have an open door policy when it comes to children. That means we will do our best to allow children access to their parents during the work of witch camp and include them in the routines of community. Children may be seen and heard. They are an important aspect of our community. The needs of any individual child will be met with the same attention and respect that we would give any adult.
We will help to create a trust worthy and safe pool of care providers that are willing to support parents in walking their paths. Child care will happen in community , not in a day care scenario. No strangers will be left alone with any child. Care providers must always be in sight of at least one other adult.
The teachers and organizers will do their best to support the needs of parents and the needs of the group. This is not designed to be a children's camp, it is a camp primarily for activists. The teachers will advise and make clear when it is not appropriate for Children to be on adult paths with their parents or care takers. Parents will have time to and should arrange for someone to care for their child in advance of any activity that is not appropriate for children. Children will not be viewed as disruptive. And any disruptive behavior, will be met with compassion and tolerance. Parents and care-takers will be encouraged to be mindful of the needs of the group that they are in. The expectation is that disruptive behavior is to be temporarily removed from the group when important work is being done, or when it is disrespectful to the group to allow it. Someone will help the adult who leaves with the child to catch up or revisit any important information or work they miss.
We will be respectful of those who choose to not participate in the child caring process directly. And we hope that all will be generous and kind in their attitude toward children and parenting.
Our community will provide love, safety, fun, joy, and some magical training for children. Children will be welcome at some of the rituals, and there will also be rituals that are not for children. And hopefully we will have a couple of rituals especially designed for children and their parents that anyone can participate in and support.
As with the fey, and the winged ones, and the four leggeds, and the spirit world, we can never be fully in control of what a child will do, or for that matter what a Reclaiming witch will do. We can do our best to be present with an open heart.
Photos ©2005 by Reclaiming Quarterly. Please do not copy, reproduce, fold, spindle, mutilate, or otherwise use them without written permission. Thanks!
---
Like this feature? Please subscribe or donate today!