Witchcamp.org - info on all Witchcamps | RQ's Witchcamp Home Page

---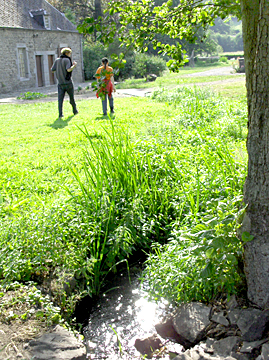 Loreley Features
---
Loreley European Reclaiming Witchcamp
Listen to the Call of the Loreley
Waterdrops, creeks, brooks, rivers - they spring from their own sources all over Europe and flow to the sea through the Lowlands...
Flowing water connects the people of Europe.
Lurking by the side of those waters is the Loreley, Reclaiming's pan-European Witchcamp.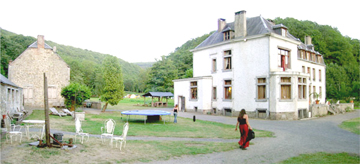 This baroque chateau located on the River Meuse (Maas) in northern France was host to the 2006 Loreley Witchcamp.
So far, Loreley has taken place in several parts of Europe: Germany, the Netherlands, and France.
When the Loreley sings to you, be sure to listen to the different tunes she sends.
Have you ever been in a magical community where at least seven different languages are spoken - including body language? You will understand it all at Loreley, however, because English is the camp language and translation is always available.
Young People Welcome at Loreley (10-up)
Young people (age 10 and up) are welcome at Loreley Witchcamp. Come to the Loreley and enjoy being with all the other gods and goddesses we really are, no matter what age we may be.
All ages share meals and camping space. Some activities and rituals include the entire camp. Young people also experience their own magical activities, while the slightly older people (adults) do their separate work.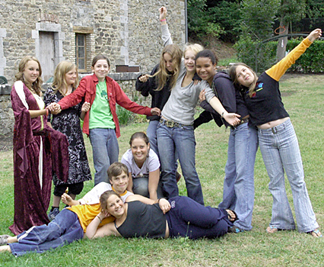 Young people (age 10-up) are a key part of Loreley Witchcamp
Each morning, there is a special Teens' Path for ages 10-16. Young people practice a variety of magical skills, such as working with the elements, reading the Tarot, meeting their power animals, labyrinths, grounding, casting, and more. We also find magic in building bridges, singing, climbing trees, and exploring the power of play.
Read more about young people at Loreley Witchcamp.
Three Learning Paths to Walk
For adults (16-up), there are three paths you can walk at the Loreley Witchcamp:
Inner Path - explore and challenge your divinity and humanity to become more of who you really are.
Outer Path - if you seek to know your strength and hold on to it, claiming justice, balance, love, and connectedness in your life.
Elements Path - explore the gifts of each element: air, fire, water, earth, and spirit - and don't be afraid to use them!
In each path there will be a team of experienced Reclaiming Witchcamp teachers to work with.
Who comes to Loreley?
Do you live in Europe? Do you live outside of Europe but want to stand on the land that carries the bones of your ancestors? Do you have no connection at all with Europe and but want to meet the people, jump into this exciting bubbling cauldron anyway? Then come join us, make magic with us!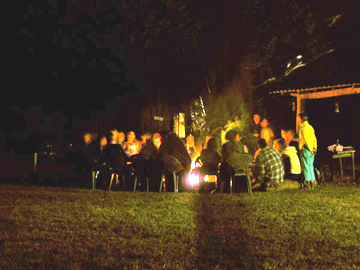 Loreley campers gather around the fire at the end of the day.
Loreley Witchcamp is your chance to be part of the European Community of Witches with a longing for more, with a desire to connect, with an urge to build a new world together.
Chances are that we are the ones we are waiting for!
Note - We ask all Loreley campers to have read and agree to the Reclaiming Principles of Unity.
For registration and other information, visit the Loreley European Witchcamp website - www.reclaimingloreley.com.
Return to the top of the page Photos ©2006 by Yoeke. Please do not copy, reproduce, fold, spindle, mutilate, or otherwise use them without written permission from RQ. Thanks!
---