Our new all-devices website!
Visit RQ at our new wix-based, all-devices website. Same great RQ content, now viewable on phones, tablets, etc.
This site (ReclaimingQuarterly.org) is still fully functional, but is no longer being updated.
Visit us at WeaveAndSpin.org!
---

playlists, streaming and downloads
Links to free listening
at youtube, google, spotify, and more!
---
Favorite RQ Features
Older Features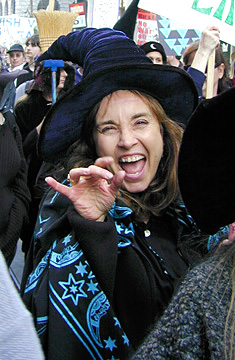 ---
Witchcamp.org - info on all Witchcamps | RQ's Witchcamp Home Page

---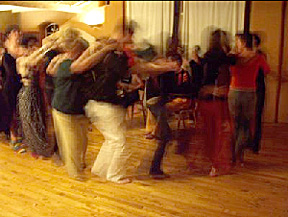 Loreley Features
---
Loreley Witchcamp 2005
"That Which Is Attained at the End of Desire..."
by Steph
Photos by Loreley campers
Spiralling around the Charge of the Goddess as its theme, the second annual Loreley Witchcamp took place at the Morgenstern conference center in July-August 2005. Amidst the peaceful hills and forests of the eastern Netherlands, nearly 40 campers from eight different countries were welcomed by the inviting green spirits of the land there.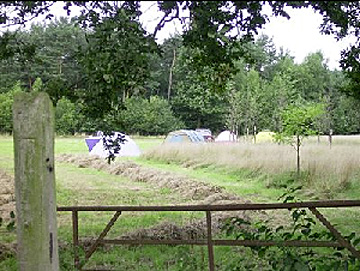 For a week we listened to the words of the Great Mother as we worked and played on our daily paths - Elements Paths with Brook and Corinna, and Inner Path with Thorn, Morgaine and Tara. The Outer Path was prepared by Moira and Yoeke and, although there were too few people interested in it for it to go through as a Path, the teachers were able to weave the content into the other Paths and workshops.
Afternoons were filled with exploring in our affinity groups, healing and meditation, workshops in drumming, community building and tarot, hiking and running, making music together and relaxing in the swimming pool.
Evening rituals were powerful opportunities for reflection, empowerment and healing. We sang, feasted, and danced in Her Presence, tasting the ecstasy of the spirit and the joy of being on this Earth together.
And as we circled around the firepit for our final ritual, we could look around and see Her reflection shining back to us from all directions. We who had sought to know Her had come to know the Mystery. We had found it within ourselves - or at least weíd begun to understand where we needed to begin seeking... We beheld, and knew that She was with us from the beginning.
For more information, visit Loreley European Witchcamp, visit www.reclaimingloreley.com
Photos ©2005 by Loreley campers. Please do not copy, reproduce, fold, spindle, mutilate, or otherwise use them without written permission from RQ. Thanks!
---