Our new all-devices website!
Visit RQ at our new wix-based, all-devices website. Same great RQ content, now viewable on phones, tablets, etc.
This site (ReclaimingQuarterly.org) is still fully functional, but is no longer being updated.
Visit us at WeaveAndSpin.org!
---

playlists, streaming and downloads
Links to free listening
at youtube, google, spotify, and more!
---
Favorite RQ Features
Older Features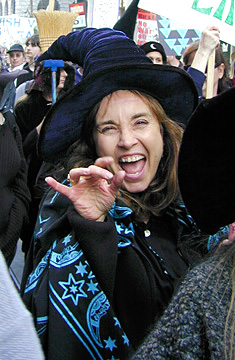 ---
Witchcamp.org - info on all Witchcamps | RQ's Witchcamp Home Page

---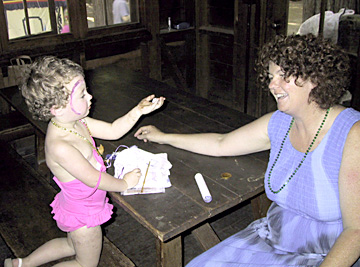 Witchlets Features
---
Pagan Parenting Resources
Compiled by the organizers of Witchlets in the Woods
Resources for Parents
Circle Round : Raising Children in Goddess Traditions by Starhawk, Diane Baker, Anne Hill
Celebrating the Great Mother : A Handbook of Earth-Honoring Activities for Parents and Children by Cait Johnson, Maura D. Shaw
Pagan Parenting: Spiritual, Magical & Emotional Development of the Child by Kristin Madden
Wiccacraft for Families by Margie McArthur
The Family Wicca Book by Ashleen O'Gaea
Celebrate the Solstice : Honoring the Earth's Seasonal Rhythms Through Festival and Ceremony by Richard W. Heinberg
Earthlight : New Meditations for Children by Maureen Garth
Tom Brown's Field Guide to Nature and Survival for Children by Judy Brown, et al
Books for Kids
Grandmothers' Stories: Wise Woman Tales from Many Cultures by Burleigh Muten, Sian Bailey (Illustrator)
The Witch Next Door by Norman Bridwell
The Winter Solstice and The Summer Solstice by Ellen Jackson, Jan Davey Ellis (Illustrator)
The Autumn Equinox: Celebrating the Harvest by Ellen B. Jackson, Jan Davey Ellis (Illustrator)
Babushka Baba Yaga by Patricia Polacco
All I See Is Part of Me by Chara M. Curtis, Cynthia Aldrich
Grandmother Winter by Phyllis Root, Beth Krommes (Illustrator)
When the Sun Rose by Barbara Helen Berger
Flower Fairies of the Winter by Cicely Mary Barker
Fairy Went A-Marketing (Unicorn) by Rose Fyleman, Jamichael Henterly (Illustrator)
Grandfather Twilight by Barbara Helen Berger (Illustrator), Patricia Gauch (Editor)
Dear Children of the Earth: A Letter from Home by Schim Schimmel
Mufaro's Beautiful Daughters: An African Tale by John Steptoe
Faeries by David Larkin (Editor)
Web Resources
Videos for Kids
Kiki's Delivery Service by Minami Takayama
My Neighbor Totoro
Intimate Portrait: Witches (1999) (young adults)
Discovering Witchcraft: A Journey Through The Elements (young adults)
The Goddess Trilogy (Burning Times, Goddess Remembered, & Full Circle) (young adults)
Music
Seal Maiden: A Celtic Musical by Karan Casey
Circle Round and Sing by Anne Hill
Dirt Made My Lunch by Banana Slug String Band
---