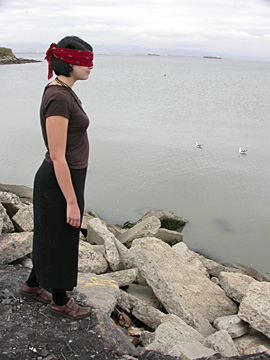 ---
Tarot and Magical Practice
Destiny Blackjack
by Andy Paik
In the back of smoky cantina in a Mexican border town, a man is seated at a table. He has a top hat with stars, and is wearing a cape. The table is covered with a silky cloth, and has a candle, a bowl of candy, a bottle of Tequila, and a deck of cards on it. The man in the hat beckons to a passing patron.
"Come my friend, surely you want to play a hand of Destiny Blackjack! Only $2! What is Destiny Blackjack?, you ask? Why it is a simple game of mystery and fate where your future, your destiny itself, can be revealed in just five, count 'em, five short minutes... It is Blackjack with Tarot Cards.
"Shuffle the deck. While you are shuffling, think about yourself. Unlike the rest of your life, Destiny Blackjack is all about you! OK, do the cards need to be cut? Does it feel like you should cut them? Then do so."
The dealer takes the cut deck, and talks as he plays with it.
"A traditional Tarot Reading is all about 'the future', about 'what will happen.' Destiny Blackjack is not like that. In Destiny Blackjack, we are looking at a possible future, a road you could walk down if you so choose. It could be a new love in your life, or a change of career. But the cards are not limited to the mundane. It could also tell us what will happen if you are abducted by aliens!"
The dealer turns over the first card, and displays it, right side up.
"The Three of Cups." The card shows three cups, overflowing, and three women dancing above the cups.
"I see you surrounded by women, perhaps at a party, perhaps on this very night. Alcohol is flowing freely and you are having a good time. You have already drawn this card, so this possibility is real. The question is: 'Do you need to know what happens next?'"
"You have a three, do you want to hit? I should warn you, this is a Tarot deck. The highest card in it is the World card, and that is 21 all by itself. The major arcana are worth their number value. Unlike in traditional blackjack, however, the court cards are only worth five, and the ace is always worth one. You could bust here, but it is unlikely..."
The next card is the Eight of Swords, showing a woman blindfolded and hands bound surrounded by eight swords.
"The Eight of Swords. Hmmm... I think your lovely lady is into bondage, perhaps? I think one of the women at the party catches your eye, and she takes you home. You will spend a wild and highly unusual night together. This is your possible future, and it is also brings your total to 11. Do you have to know more?"
The Five of Pentacles. The card shows a woman cradling a baby, and a man with his hat in his hands in front of a stained glass window...
"Alas, the price of pleasure... She is now pregnant with your child, and you are getting married. This is your possible future. You have already drawn it. You can meet three women at a party and go home with one of them. It will turn out that she likes blindfolds and ropes and you will get her pregnant. You will marry her, and then you will have a total of 16. Are you content to stand there, knowing you can have a happy, married life together, or do you have to see that life for yourself?"
"You stand, a wise choice. Not enough people know when they have a good thing. Take this special candy I have prepared, and eat it. It holds the energy of this happy destiny, and by eating it, you will take that possibility into yourself."
The dealer takes a hard candy ball from a nearby bowl, rolls it back and forth over the cards, and hands it to the man. He takes it and eats it.
"No, you can't see the next card," the dealer adds, cutting the rest of the deck again so even he will not be tempted. "To show you would change the magic of that happy destiny. You have to mean it when you stand."
Meanwhile, one parallel universe over, with a different choice...
"You hit - a bold choice from a man who wants a powerful destiny."
The dealer turns the next card over. It is the Hermit, a old man with a lantern standing alone. Its value is nine. The dealer frowns and inverts the card.
"The Hermit, which makes the hand total 25. You bust! You will not be able to make the marriage work, and she will leave you, taking the child with her. You will live out the rest of your life alone and lonely."
"No, that doesn't mean you should have stood on the 16. The fact that you didn't means that you are not the kind of person who will stop when you have that happy marriage. What it means is that, when you meet three women at a party, don't go off with the one who is into bondage. That path will only lead you to heartbreak."
"Remember, this is only a possible destiny, a path you can walk down if you choose. Not necessarily THE path you WILL walk down. There are other paths, and we can explore another for just $2 more..."
Andy is Reclaiming Witch from Los Angeles who denies playing Destiny Blackjack in border states...
---
Return to Tarot Home Page
Return to RQ's Home Page