RQ#98 - Online
Individual sections posted online
---
Our new all-devices website!
Visit RQ at our new wix-based, all-devices website. Same great RQ content, now viewable on phones, tablets, etc.
This site (ReclaimingQuarterly.org) is still fully functional, but is no longer being updated.
Visit us at WeaveAndSpin.org!
---

playlists, streaming and downloads
Links to free listening
at youtube, google, spotify, and more!
---
Favorite RQ Features
Older Features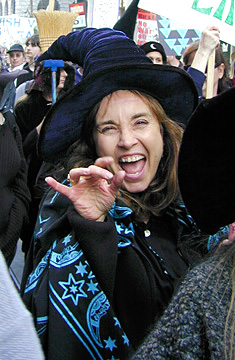 ---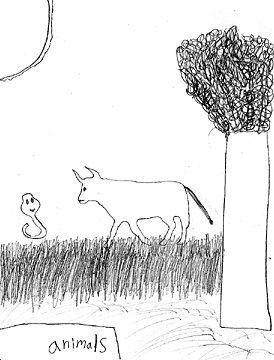 "Animals," by Maya
---
Tarot and Magical Practice
Missing Tarot Cards
by RQ readers
When the modern Tarot deck was codified in the late Middle Ages, difficult choices were faced regarding which aspects of human experience would count as Major Arcana, which as Minors, and which would be left out entirely.
The self-appointed authorities who made these decisions may have overlooked realms of experience which subsequently proved central to human culture as we know it today: shopping, spectator sports, and television, to name just a few.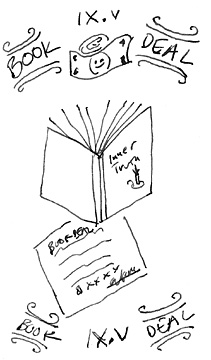 This Spring, RQ invited readers to submit their thoughts regarding Missing Tarot Cards. Here are their nominations, along with artists' renditions of four of the cards.
Send Us Your Missing Cards!
Have a Missing Tarot card you want to share with RQ? Email us!. We'll add more cards to our online edition.
---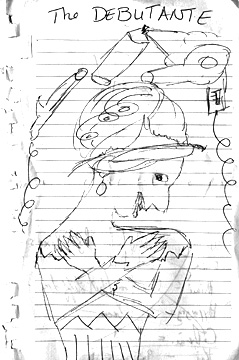 Baby-with-the-Bathwater - this card shows upraised arms flinging water from a plastic baby bathtub, astonished-looking baby riding the wave out of the tub. If you receive this card in a reading, it refers to impetuosity, and may portend a need to let go and act without fear of consequences. Reversed, it reflects a need for caution in action. - by Victoria Slind-Flor
Shoveling - I've have always been struck with how life is full of endless clean-up tasks, the sort of maintenance tasks that must be done, and quickly get undone. In domestic management there's laundry - nice clean shirts one folds and puts away only to see them immediately taken out of a drawer, worn, and thrown in the hamper. Dishes one washes only to be dirtied. Meals one spends hours preparing which are gobbled. The card does not exactly speak of futility, because these tasks are absolutely necessary. Perhaps the myth of the cleansing of the Augean stables, which fill up with filth as soon as they are shoveled, would be a lofty interpretation of this archetypical dilemma. The card seems to have a reverse-nine feeling to it - pentacles or wands? - by Rose May Dance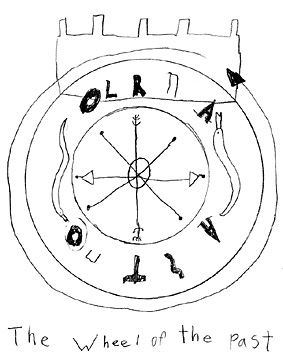 More Missing Tarot Cards
Dolly Parton
Pagan Poseurs
Card No. -1
The Grand Slam
Clean Room
Getting Stuff Done
Hypnogogic State (between waking and sleeping)
Exile (No. 9.5)
Golfing
Missing Tarot cards suggested by Whitney, Mimi, Catherine, Rebecca, George, Daisy, Kai, Nolan.
Missing cards by Elka (Book Deal), Julian (Wheel of Past), Maya (animals), and Anonymous (debutante).
---
Return to Tarot Home Page
Return to RQ's Home Page