Plus links to free listening
at youtube and spotify!
---
More RQ Features
---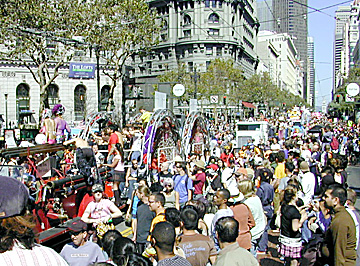 Love Parade v. Peach March Features
---
September 24, 2005 - San Francisco
On Saturday, September 24, the Love Parade, an international event in its second year in San Francisco, took to the streets. Thousands of ravers danced and paraded down Market Street, the main business and tourist thoroughfare of downtown SF. Thousands more people spontaneously joined the dancing.
The parade was accompanied by a couple of dozen truck-sized floats, many of which pumped house and breakbeat music from huge sound systems.
---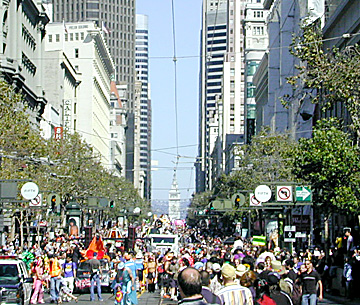 Here comes the Love Parade.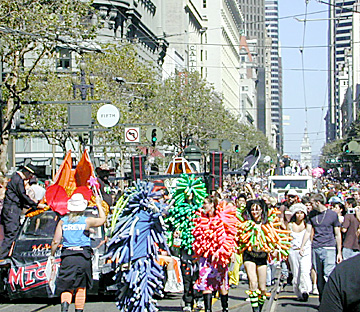 Thousands of people took over all six lanes of Market Street, the main business artery in San Francisco.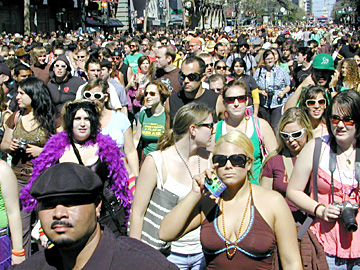 A still photo cannot convey the pulsing energy of thousands of dancing paraders. The youngish crowd revelled in the warm San Francisco afternoon.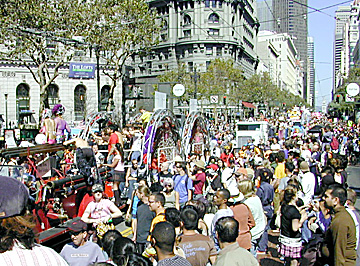 A couple of dozen floats, many pulled by semi's, carried DJ's and dancers through the densely packed crowd.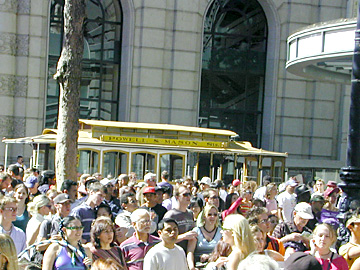 So magnetic was the Love Parade that tourists momentarily lost interest in the cable cars at Powell Street in downtown San Francisco.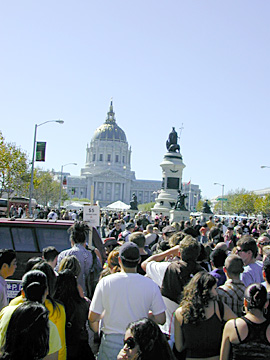 The Love Parade wound up at Civic Center, where participants had to shell out $5 to get past security barricades. Friends who paid the price told me it was worthwhile - "it paid for the DJ's."
Luke Hauser
is a freelance parajournalist in the service of the Goddess and planetary revolution. His photo-filled book Direct Action is an historical novel about Bay Area protests.
Photos ©2005 by Luke Hauser, Reclaiming Quarterly. Please do not copy, reproduce, fold, spindle, mutilate, or otherwise use them without written permission. Thanks!
---