Our new all-devices website!
Visit RQ at our new wix-based, all-devices website. Same great RQ content, now viewable on phones, tablets, etc.
This site (ReclaimingQuarterly.org) is still fully functional, but is no longer being updated.
Visit us at WeaveAndSpin.org!
---

playlists, streaming and downloads
Links to free listening
at youtube, google, spotify, and more!
---
Favorite RQ Features
Older Features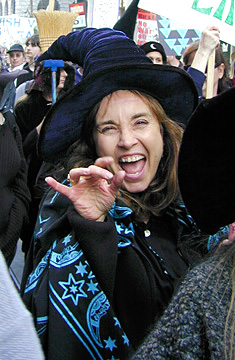 ---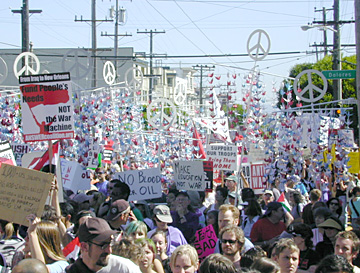 Love Parade v. Peach March Features
---
September 24, 2005 - San Francisco
On Saturday, September 24, anti-war marchers took to the streets of Washington DC, San Francisco, and other cities to demand an end to the Iraq War, an end to the current U.S. regime, and justice for all.
The San Francisco peace march passed through the Mission, Castro, Haight, and Western Addition neighborhoods in central SF.
---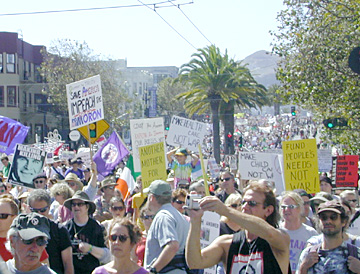 Peace March descends Market Street. The tail of the march can be seen, far in the distance.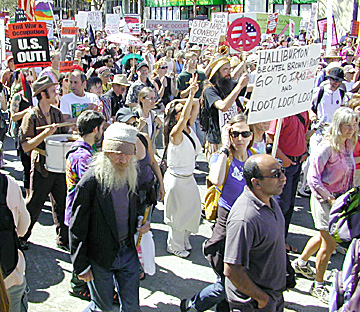 The crowd consisted of a wide range of ages, races, and classes. Considering how may young people were at the Love Parade, the youth presence at the peace march was very strong.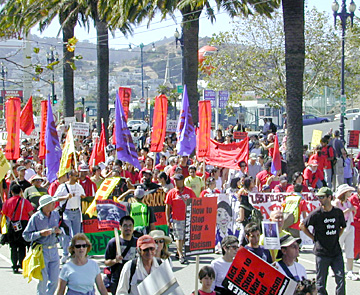 The thousands of marchers made signs and banners for dozens of causes. The outpouring of homemade creativity filled the streets with color.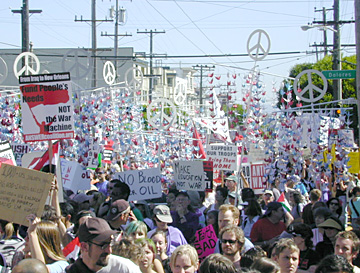 The densely-packed crowd marched through the Mission District's - going right by RQ's attic headquarters on Church Street! The colorful props in the background are hundreds of paper cranes, international symbol of peace.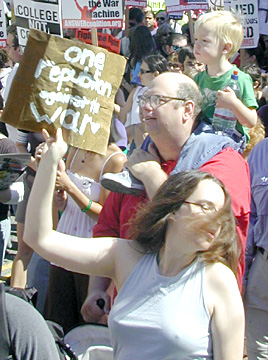 Not all of the dancers were at the Love Parade.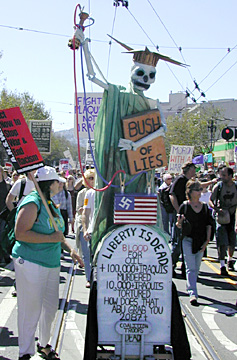 Floats and large props were in short supply, but this Statue of Liberty enlivened the peace march.
Luke Hauser
is a freelance parajournalist in the service of the Goddess and planetary revolution. His photo-filled book Direct Action is an historical novel about Bay Area protests.
Photos ©2005 by Luke Hauser, Reclaiming Quarterly. Please do not copy, reproduce, fold, spindle, mutilate, or otherwise use them without written permission. Thanks!
---