Plus links to free listening
at youtube and spotify!
---
More RQ Features
---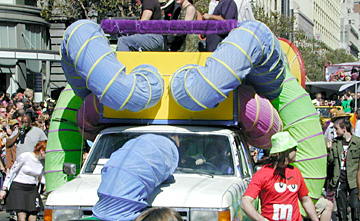 Love Parade v. Peach March Features
---
September 24, 2005 - San Francisco
On Saturday, September 24, the Love Parade, an international event in its second year in San Francisco, took to the streets. Thousands of ravers danced and paraded down Market Street, the main business and tourist thoroughfare of downtown SF. Thousands more people spontaneously joined the dancing.
The parade was accompanied by a couple of dozen truck-sized floats, many of which pumped house and breakbeat music from huge sound systems.
---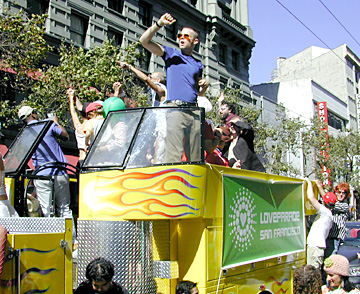 The Love Parade's own float rocked the crowd.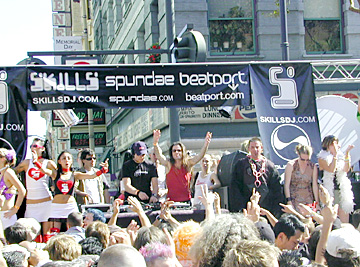 The dance event "Spundae" sponsored a huge float. Their house music was accompanied the length of Market Street by a throng of dancers, making it literally a club-on-the-march.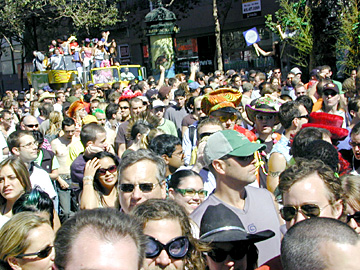 The crowd danced around the floats, and practically swallowed the smaller ones.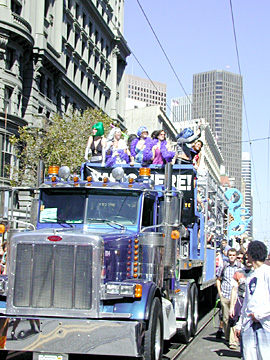 The biggest floats were pulled by semi's, an incongruous sight driving through the densely packed crowd.
One of the more artsy floats. With its post-apocalyptic motif, it almost seemed to have a political message. Then again, maybe not.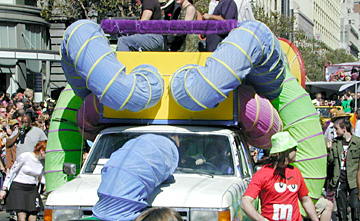 One of the few "home-made" floats in the parade - and one of the surprisingly few moments of Burning Man-style "do-it-yourself" creativity.
Luke Hauser
is a freelance parajournalist in the service of the Goddess and planetary revolution. His photo-filled book Direct Action is an historical novel about Bay Area protests.
Photos ©2005 by Luke Hauser, Reclaiming Quarterly. Please do not copy, reproduce, fold, spindle, mutilate, or otherwise use them without written permission. Thanks!
---